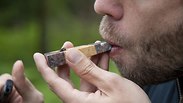 Illustration
Photo: Shutterstock
There has been a steady and significant increase in the number of patients seeking a medical cannabis license over the past five years—almost four times as many requests as in 2013, according to recently-released data from the Ministry of Health.

At the same time, there has also been a sharp increase in the number of applicants who were rejected—almost one third.

According to the data, 14,910 applications were submitted to the Medical Cannabis Unit of the Ministry of Health in 2013, while in 2018 the number of requests rose to 57,781, an increase of 387 percent.

The data includes the total number of requests submitted to the ministry, whether by new patients requesting a license, requests for a change in dosage, renewal of the license or those requesting a change in their medical cannabis provider.

The rate of applications approved in 2013 was 92.5%. In 2014, the approval rate dropped to 89% of requests and by 2016 to 84.8%. In 2017, it increased slightly to 87.4%, and in 2018 87.15% of requests were approved.

The number of permits in Israel also increased significantly. In 2013 there were 12,561 people who were allowed to use medical cannabis. In 2018, the number rose to 30,507, an increase of 243%.

According to Ministry of Health data, 13,966 new applications for a medical cannabis license were submitted in 2018. 9,000 of the applications were approved and 4,966 were rejected. In other words, about 36% of patients' requests were rejected.

In 2013, 4,025 new medical cannabis license applications were submitted, of which 3,540 were approved and 486 rejected, or 12%.

Five years ago, in 2013, 3,862 patients applied for a change or increase in their cannabis allowance dosage, and 3,422—88.6% of the requests—were approved. In 2018, the number of requests for a change or increase in dosage jumped to 11,339, of which 10,513 were approved—92.7% of the requests.

The Ministry of Health also published the types of diseases for which patients received a medical cannabis license. In 2018, 1,745 cancer patients undergoing oncology treatments were licensed, as were 1,116 cancer patients suffering from symptoms of the disease or negative drug effects, 1,056 Crohn's disease patients and 154 colitis patients.

The largest group of patients receiving a license are those suffering from chronic pain: 17,963 people. In addition, 137 HIV / AIDS patients were licensed.

Among the license recipients were 487 patients with multiple sclerosis, 599 Parkinson's disease patients, 357 people with Tourette syndrome, 276 terminally ill patients and 3,131 people with post-traumatic stress disorder. In addition, 107 adults and 131 children with epilepsy received permits, and another 3,226 people suffering from other diseases.

The data shows that most of the medical cannabis licenses are issued to people aged 40-65 (14,083). Among those aged 65 and older, there are currently 7,741 patients. Among young people aged 18-40 there are 7,358. In addition, 429 adolescents aged 12-18 and 848 children aged 1-12 are licensed to use medical cannabis. As of today, there are also 19 infants who have been granted permission to use medical cannabis.

As for gender, there are more men than women with a medical cannabis license: 19,635 men compared to 10,872 women.

Currently, a medical cannabis license is conditional on medical follow-up every three months at least during the first year of treatment. The follow-up is performed by a Ministry of Health certified physician. From the second year of treatment, a follow-up is necessary once every six months.

The initial dose of cannabis issued is about 20 grams per month (0.6 grams per day). In the event there is need to increase the dosage, the attending physician must submit a reasoned and detailed request to the ministry's Medical Cannabis Unit. Dosage increase is gradual, 10 grams at a time.

"The Ministry of Health has taken quite a while to provide us with the information regarding approvals for the use of medical cannabis," explains Attorney Or Sadan, legal advisor of the Freedom of Information Movement. "The public is eager for such information, which can shed light on a social phenomenon in which doctors and patients choose to use cannabis for medicinal purposes."