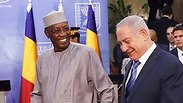 Chadian President Idriss Deby (L) and PM Netanyahu
Photo: Reuters
Deby to Netanyahu: Diplomatic ties won't solve Palestinian issue
Speaking at a joint press conference with Chadian President Idriss Deby, PM Netanyahu says, 'We never fully stopped our contacts'; Deby reportedly agrees to open his country's skies to Israeli direct flights from S. America; President Rivlin: 'Chad is the future.'
Prime Minister Benjamin Netanyahu held Sunday a joint press conference with Chadian President Idriss Deby, asserting that "Great changes are taking place in the Arab world in its relations with Israel," while the African leader said that the resumption of diplomatic ties between his country and Israel will not solve the Palestinian issue."

Deby's visit to Israel is the first-of-its-kind by a leader of the Muslim central African nation, which severed bilateral ties with Israel in 1972.

Chadian President Idriss Deby (L) and PM Netanyahu speaking at a joint press conference in Jerusalem (צילום: אלכס גמבורג)

Speaking about the relationship between Israel and Chad, Netanyahu said," I'm delighted that we are resuming our friendship. We never fully stopped our contacts, but we are now expanding them at a very rapid rate," to which the Chadian President replied, "We seek to begin a new era of diplomatic ties. However, the resumption of these ties will not make the Palestinian issue go away."

Speaking to reporters, Netanyahu said," Chad is a very important country. It's an important country in Africa. It's an important country for Israel.

"In the last two years I've been three times in Africa—East Africa and West Africa. Now I'm going to drop a big hint, I hope to come to the center of Africa. And I wish to bring with me Israeli entrepreneurs, Israeli experts, Israeli companies, everything that can improve the life of the peoples of Africa, which is something we believe in. Israel is coming back to Africa, Africa is coming back to Israel," he went on to say.

One of the issues Netanyahu and Deby discussed was Israel's intention to launch a direct fight route from South America to Israel crossing Nigeria, Sudan, and Chad's skies, to which Deby reportedly agreed.

The Chadian president stressed that Israel is very close to a breakthrough in its relations with Sudan that is defined as an enemy country, but has been tightening its relations with the US over the past several years.

Deby promised to assist in convincing Sudan to open its skies to Israeli flights.

Elaborating on Israel and African countries' common interests, Netanyahu said, "Fighting terrorism is a common goal of all countries. Give our peoples what they deserve: security, food, water, clean water, health, medicine, all the things that our cooperation can produce for the benefit of both our countries. Israel in fact was cooperating in this fashion with the countries of Africa in the 1960s and early 70s, especially in agriculture and water. This was discontinued and now it's flourishing back again.

"A few minutes ago we discussed in my office the great changes that are taking place in the Arab world in its relations with Israel. And this was manifested in my recent visit in Oman with Sultan Qaboos. And there will be more such visits in Arab countries very soon," Netanyahu continued.

"As a leader of an African country, an important African country, a majority of whose population is Muslim, you are coming to Israel to renew our friendship and our relationship. I think it is a testament of what is going to happen with other such countries in Africa as well, and I believe that you are paving the way for many others," he added.

The African leader, who also expressed his desire to resume diplomatic ties with the Jewish State, said, "I'm happy to be here in your beautiful country. This visit will allow us to turn over a new leaf in the relations between both countries. This visit is historic for Israel as well as for Chad."

"I myself have said several times at the United Nations, that my country wishes for a peace treaty to be achieved between Israel and the Palestinians. We think such an agreement should reflect the principles of the Security Council, the Arab League, and the Madrid Accords, as well as to include bilateral agreements between both sides," he elaborated.

When asked whether he had discussed arms deals with Netanyahu, Deby refused to respond, with the prime minister stating, "We discussed what we discussed."

After his meeting with Netanyahu, Deby met with President Reuven Rivlin, who echoed the prime minister's remarks, saying, "We are delighted to renew links with Chad after too many years."

"Chad is an important country, a country that fights terror, and Israel is at your side in this just war. We see great importance in developing relations with Africa, the cradle of civilization. For us, Africa is the future, Chad is the future, and Israel wants to share its experience with you," Rivlin stated.

Stressing his desire for a full resumption of diplomatic ties between Israel and Chad, Rivlin added that he hopes a Chadian ambassador to Israel be appointed soon.

"With your help, I want to call on the other African states with which we do not have relations to be part of this change, and to see Israel as a partner and an ally," he went on to say.

Reiterating that the resumption of diplomatic relations would not make the Palestinian issue disappear, Deby added, "Of course, peace has yet to be achieved in the region. Peace is what all people need to lead a good life.

"The Palestinian issue is a crucial issue that must be dealt with. Israel has also endured hardship throughout its history, but it is important that people talk. It is very easy to pull the trigger but it is hard to stop the fighting.

"Finding a solution to this problem is very important, a solution that reflects all the decisions taken by the UN Security Council on the matter.

"Africa is the continent of the future. And your country has a place in that future," he concluded.

Wasel Abu Youssef, a senior Palestinian official, voiced displeasure over Deby's visit.

"All countries and institutions must boycott the extremist government of Israel and impose a siege on it because of its settlement activities, its occupation of Palestinian land," Youssef said.

Deby, 66, has been in power since 1990 and has been an ally of the West in a fight against Islamist militants in West Africa. However, impoverished Chad itself faces destabilizing forces on multiple fronts, including jihadists with links to al Qaeda and Islamic State.

He is also trying to prevent an influx of militants fleeing the Libyan conflict and in January closed Chad's border with its northern neighbor.

In July 2016, Deby hosted the then-director of Israel's Foreign Ministry, Dore Gold, for exploratory talks on improving bilateral relations. Gold said on Israel Radio on Sunday that his Chadian hosts told him they had cut off ties in 1972 under Libyan pressure, a factor removed with the toppling of Muammar Gaddafi in 2011.

Reuters contributed to this report.