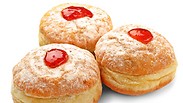 he best Hanukkah sufganiyot in Israel
Photo: Shutterstock
To eat or not to eat? Here are the best sufganiyot for Hanukkah
55 people from across the country join the great annual Yedioth Ahronoth sufganiyot survey; the trendiest sufganiyot have a sophisticated look but, when it comes to taste, nothing beats the classic jelly doughnut with sugar powder; and the 2018 best sufganiyah awards goes to…the nostalgic (and cheap) sufganiyah at Hazvi bakery in Bnei Brak.
Hanukkah is just around the corner, which means it's time for the annual Yedioth Ahronoth sufganiyot survey. The traditional taste test, which this year included 55 participants, is designed to help you decide which deep-fried Israeli delicacy is worth the calories and subsequent guilt. Here are some of the best sufganiyot for 2018.
A few editorial notes
1. If there is something we have learned from this year's tasting, it's that no matter how sophisticated the decorations, fillings, and coatings of this fried delicacy, in the end, what we prefer are the simple and classic strawberry jam doughnuts.
2. It's unfortunate (or fortunate, depending on one's point of view) that pastry-cooks put more effort into the design of the sufganiyah (thus overpricing it, some even sell their product at double-digit prices).
3. Another important point to note: dear pastry chefs, please stick to the calendar. We understand you've been working days and nights trying to improve your recipes, but, having witnessed sufganiyot displays as early as September, we ask you to be patient and wait until the holiday season before displaying your product. It's best to eat sufganiyot during the cool season of the year, not in the hot summer days. Just the thought of ingesting this oil-soaked sponge during the sweat-filled mid-September days terrifies us.
4. Roladin's head chef, Shlomi Fadida, reminded us that the customer is always right, even when it comes to Hanukkah's sweet treats. Back in August, for example, Roladin held a huge tasting survey, in which customers took part in determining the bakery cafe chain's choice of leading sufganiyah flavors for 2018 (though we would have preferred to know that the sufganiyot menu is planned by experienced bakers and not by costumers the chain is trying to please).
The taste test
Among the survey's participants this year are families from Gaza border communities, Israeli navy soldiers, experienced Israel Postal Company staff members and start-up employees with a sweet tooth.
When it comes to the presentation of this year's sufganiyot selection, the decision was unanimous: these are not pastries, but works of art. Therefore, when it came time for a final ruling, we have taken into account the sufganiyah's look as well. We also put emphasis on taste, texture, and price.
The results
Best nostalgic taste

The classic sufganiyah is something we will always cherish, and when made properly, they win every time. The long-serving Hazvi bakery in Bnei Brak received the most praise from our tasters, young and old alike. It seems everyone wants the classic sufganiyah with jelly and sugar powder.

Price: NIS 3.5 apiece.

Address: 78 Kahneman St., Bnei Brak.

Orders and reservations: 03-6740674

The most surprising

Jacobs Bread boutique killed it this year with a sufganiyah collection based on salty snacks, like Bamba Bisli, popcorn, and even lime and mint cream.

Price: Starting at 8 NIS apiece.

Orders and reservations: 03-55511333

Nomili Patisserie Café's sourdough

We've never heard of this before: sufganiyot made from natural sourdough and pure butter. Dan Kelly, a Paris-trained pastry chef, concocted this recipe for Nomili Patisserie Café in Kfar Saba. The sufganiyah come with a pastry crème or Belgian chocolate ganache filling. Our tasters loved it.

Price: NIS 10 apiece.

Address: 3 Sokolov St., Kfar Saba.

Orders and reservations: 09-7662616.

Macaron-based sufganiyah

The fairy-tale sufganiyot of the Showroom Bakehouse have excited our tasters—both in terms of presentation and variety of fillings. The collection called "Hypnotic Macaron" is based on classic flavors of macarons such as pistachios, strawberries, berries, champagne and more. Each sufganiyah is decorated with fondant icing that adds an interesting twist to the presentation of this deep-fried dessert.

Price: NIS 14-16 apiece.

Orders and reservations: click this link

David Outmezgine's 'Volcano'

Personal truffles sufganiyah wrapped in chocolate and topped with a thin gold or silver foil, created by confectioner David Outmezgine. The coating explodes in the mouth, revealing a rich filling in a variety of flavors inside. The most popular sufganiyah was Outmezgine's "Volcano," which is filled with cappuccino cream. "It's not a sufganiyah anymore, it's reminiscent of a Ferrero Rocher chocolate ball with a fried dough texture," said one survey participant. It's a pity that it is overpriced.

Price: NIS 45 apiece; delicious, but pricy.

The chain's reservation center: 03-9393655.

 

Paris in Biscotti

The Biscotti patisserie chain takes the well known "Paris-Brest" French dessert (made of choux pastry and a praline-flavored cream) and incorporates into its collection of sofganyot, turning the holiday delight into something new. Our tasters especially enjoyed the Ferrero Rocher-style filled sufganiyah with a nougat coating and hazelnuts crumble.

Price: NIS 10 apiece.

Orders and reservations: 03-5704015 / 03-5704018

Roladin's Pierre Hermé-inspired sufganiyah

The Roladin chain drew inspiration this year from the collaboration between the Pierre Hermé French patisserie and luxury Swiss chocolate brand Lindt. The result looks pretentious and over-designed. The most liked offering is the "Royal," a sufganiyah with milk and bitter Lindt chocolate cream filling, chocolate almond sable, profiterole, and a chocolate-hazelnut shot. The "Infinity Vanilla"—filled with a white chocolate pastry cream with caramel and almonds crunch and a vanilla shot—is also worth a try.

Price: NIS 12 apiece

Orders and reservations: click here.

Pretzel bagel sufganiyah

The pretzel bagel sufganiyah by the boutique bakery "Elchanan Bread Culture" in Mishmarot (a kibbutz in northern Israel) was the star of our survey, perhaps because it reminded our tasters of the American-style doughnut. The recipe was invented by baker and owner Eldad Shmueli, and the variety of sofganyot includs a filling or top with flavors of chocolate, nuts, vanilla pastry cream, pistachio praline, strawberry jam, raspberry jam, guava jam, citrus jam, salted caramel and Dulce de leche

Price: NIS 9-11 apiece

Orders and reservations: 04-8838200

Dallal Bakery

You can't argue with the quality of the Dallal Bakery shop. Here too the sofganyot filled with Dulce de leche / chocolate / vanilla / pistachio were among our tasters' favorites, as well as a kids' favorite, especially the classic ones.

Price: NIS 8 for filled sufganiyah, NIS 5 for a classic sufganiyah

Orders and reservations: 03-5109292

Boutique Central's brioche

This year, the Boutique Central patisserie chain serves Brioche sofganyot. On the menu: filled sofganyot with various flavors, such as crème brulee, creamy pastry crème enriched with white chocolate and vanilla sticks, and yummy chocolate cream. Our tasters especially enjoyed the almond tuile sufganiyah, which was ranked especially high.

Prices: NIS 6-7 for a baked or classic brioche sufganiyah, NIS 9 for a sufganiyah with filling.

For orders and reservations, click here

Tatti Bistro's cinnabon

How much further can we go? Our tasters liked the cinnabon sufganiyah, so who are we to argue? The gimmick belongs to the Tatti Bistro, and they come with a cinnamon pastry cream and cream cheese filling or with a coffee-walnut filling.

Price: NIS 8.5.

Orders and reservations: 03-5392500

 

Metuka's Sabrina sufganiyah

Metuka bakery's take on a classic Sabrina cake was well liked by our tasters. The bakery offers a Sabrina sufganiyah with vanilla cream and fresh strawberries.

Price: NIS 12 apiece

For deliveries: 1-700-723-723

Shani Bakery

The Shani Bakery in Haifa serves bite-size sofganyot suitable for children. They are filled with "Kinder Click"—a Kinder Bueno filling topped with Belgian chocolate ganache and crunchy Click chocolate bar balls—or with a chocolate cream with chocolate and colored candy toppings.

Price: NIS 6-11 apiece, 64 for a package.