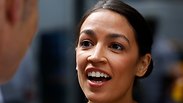 Alexandria Ocasio-Cortez
Photo: AP
Ocasio-Cortez compares caravan migrants to Holocaust survivors
The 29-year-old Congresswoman faces major backlash after she wrote on her Twitter account that migrants who are heading to US from Central America can be considered refugees just as 'Jewish families fleeing Germany'; Ocasio-Cortez in the past harshly criticized Israel for shooting Palestinian protesters during Gaza border demonstrations.
Alexandria Ocasio-Cortez, 29, the youngest Congresswoman in the United States history and a rising star in the Democratic Party, sparked outrage on Monday with her comments comparing Jews fleeing Nazi Germany during the Holocaust to a caravan of Central American migrants trying to breach the US border.

The 29 year old drew criticism and thousands of negative comments on social media after tweeting, "Asking to be considered a refugee and applying for status isn't a crime. It wasn't for Jewish families fleeing Germany."

"It wasn't for targeted families fleeing Rwanda. It wasn't for communities fleeing war-torn Syria. And it isn't for those fleeing violence in Central America," she continued.

Ocasio-Cortez, 29, was elected for congress after beating Joseph Crowley, a senior member of the Democratic Party, who has been serving in the House of Representatives since 1999.

She expressed her controversial opinions after the US Border Patrol fired tear gas at the migrants who attempted to breach the US-Mexico border.

Clashes between migrants and US forces (צילום: רויטרס)

Many social media users called Ocasio-Cortez "ignorant" and branded her remarks as "absurd" and "offensive."

Yossi Gestetner, an American ultra-Orthodox Jew who provides PR services and has thousands of Twitter followers, said the humanitarian situation in South America is not comparable to the Holocaust.

"People were rushing the border today and throwing rocks. Border Patrol pushed back. Ocasio compared the rushers to Jews fleeing Europe … It is not the same on merit … and my grandparents did not border-rush despite suffering," Gestetner vented.

The Daily Caller reporter Benny Johnson labeled Ocasio-Cortez's comparison as "sick."

"We are here now. America accepting a Jewish refugee from Germany—who was fleeing the systematic state-sponsored mass slaughter of their people that killed over 6 million Jews from 1934 to 1944—is the moral equivalent of America accepting economic migrants in the caravan today," he wrote on his Twitter account.

Californian journalist Frances Dinkelspiel agreed with Ocasio-Cortez, but emphasized that the United States was not so generous to the Jews who fled Nazi Germany, refusing asylum to many of them.

During her election campaign, the 29 year old focused mostly on topics of education, welfare and support for new immigrants, as well as gun control and the privatization of prisons. She has emphasized in the past that for a woman like her, whose mother was born in Puerto Rico and whose father grew up in the Bronx, running for US Congress is not a given.

Ocasio-Cortez, harshly criticized Israel after 62 Palestinians, 50 of whom were Hamas militants, had been killed by IDF fire during one of the March of Return protests along the Gaza border last May.

"This is a massacre. I hope my peers have the moral courage to call it such. No state or entity is absolved of mass shootings of protesters. There is no justification. Palestinian people deserve basic human dignity, as anyone else. Democrats can't be silent about this anymore," she stressed on her social media account.

On Sunday, US border agents fired tear gas on hundreds of migrants protesting near the border with Mexico after some of them attempted to get through the fencing and wire separating the two countries, and American authorities shut down the nation's busiest border crossing from the city where thousands are waiting to apply for asylum.

The situation devolved after the group began a peaceful march to appeal for the US to speed processing of asylum claims for Central American migrants marooned in Tijuana.

Mexican police had kept them from walking over a bridge leading to the Mexican port of entry, but the migrants pushed past officers to walk across the Tijuana River below the bridge.

More police carrying plastic riot shields were on the other side, but migrants walked along the river to an area where only an earthen levee and concertina wire separated them from US Border Patrol agents. Some saw an opportunity to breach the crossing.

An Associated Press reporter saw US agents shoot several rounds of tear gas after some migrants attempted to penetrate several points along the border. Mexico's Milenio TV showed images of migrants climbing over fences and peeling back metal sheeting to enter.

More than 5,000 migrants have been camped in and around a sports complex in Tijuana after making their way through Mexico in recent weeks via caravan. Many hope to apply for asylum in the US, but agents at the San Ysidro entry point are processing fewer than 100 asylum petitions a day.

Irineo Mujica, who has accompanied the migrants for weeks as part of the aid group Pueblo Sin Fronteras, said the aim of Sunday's march toward the US border was to make the migrants' plight more visible to the governments of Mexico and the US.