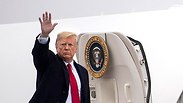 US President Donald Trump
Photo: EPA
Trump: US troops remain in Mideast because of Israel
In an interview with The Washington Post, President Trump says US doesn't have to stay in the region as it's 'producing more oil now than we've ever produced'; adds he might cancel G20 meeting with Russia's President Putin amid Moscow's 'aggression' towards Ukraine.
US President Donald Trump told The Washington Post on Tuesday that Israel is the reason behind US Military's prolonged stay in the Middle East.

In an interview with the newspaper, Trump addressed the possibility of withdrawing American forces from the Middle East, saying "now, are we going to stay in that part of the world? One reason to is Israel."

The American president—who drew a lot of criticism for failing to visit American troops in combat zones—and announced his intention to visit US troops stationed in the Middle East. "At the right time I will (visit the soldiers)."

Since America has started producing its own oil in large quantities, Trump added, oil has become a secondary consideration in Washington's decision to stay in the region.

"Oil is becoming less and less of a reason because we're producing more oil now than we've ever produced. So, you know, all of a sudden it gets to a point where you don't have to stay there," he explained.

Trump in an interview with The Washington Post

Addressing the rising tensions between Russia and Ukraine after the two countries clashed in the Black Sea on Sunday, Trump threatened to cancel his meeting with Russian President Vladimir Putin, which was set to take place on the sidelines of the G20 summit in Argentina over the weekend.

"I don't like that aggression. I don't like that aggression at all. Absolutely. And by the way, Europe shouldn't like that aggression," he said in reference to Russia's seizure of three Ukrainian ships.

"I am getting a report on that tonight, and that will determine what happens at the meeting. Maybe I won't even have the meeting," the US president went on to say.

Casting doubt on the CIA's assertion that Saudi Crown Prince Mohammed Bin Salman was behind the assassination of dissident journalist Jamal Khashoggi last month, Trump reiterated his support for the Saudi prince.

"Maybe he did and maybe he didn't. But he denies it. And people around him deny it. And the CIA did not say affirmatively he did it, either, by the way. I'm not saying that they're saying he didn't do it, but they didn't say it affirmatively," he continued.

When asked about the government's climate change report, according to which global warming increase natural disasters, Trump replied he doesn't believe climate change is caused by mankind.

"One of the problems that a lot of people like myself—we have very high levels of intelligence, but we're not necessarily such believers. You look at our air and our water, and it's right now at a record clean," he told the Post.