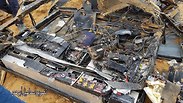 The alleged listening devices the force sought to plant
The Israeli special forces involved in a recent bungled Gaza Strip raid had entered the coastal enclave multiple times before the operation, Palestinian terror group Hamas claimed Wednesday. The operation saw an IDF officer killed and another wounded, and preceded a massive wave of rocket fire on southern Israeli communities. Seven Palestinians were also killed when the November 11 operation went wrong, and the IDF unit was forced to call in air support to help them flee.

An official from Hamas told a television channel affiliated to the Lebanese-based terror group Hezbollah that listening devices were brought into the Strip by a Gaza resident collaborating with Israel. The Israeli agent in Gaza allegedly transported the espionage equipment to the site of a secret underground communications center used for internal communication between different Palestinian militant factions. Hamas has ruled the Gaza Strip since seizing power a decade ago in a bloody internecine battle with Palestinian President Mahmoud Abbas' Fatah movement.

The Hamas official claimed the IDF force also installed listening devices near the border, east of Gaza City, under the cover of works done by one of the Palestinian communications companies. The official said Hamas's military wing removed these bugs.

According to the Al Akhbar report, the Israeli Special Forces entered the strip through the Erez border crossing using IDs that belong to real residents in the Gaza Strip, with only the photo replaced. They reportedly entered the strip at different times and not all at once, to avoid arousing suspicion.

The Hamas official said the Palestinian collaborator provided the force with two cars in Gaza.

Despite the fact the Israeli Air Force bombed one of the vehicles used by the force, Hamas was apparently able to lay its hands on some of the equipment that was in it, which wasn't damaged.

"The resistance continued its investigation and reached the information about the local collaborators who helped the Israeli force inside the Gaza Strip, as well as to the money meant for the Israeli force and the collaborators," the Hamas official said. "So far, we can say the resistance has been able to identify over 80 percent of the Israeli force's moves, which led to the exposure of dozens of its targets. The most significant objective the force had was to plant equipment to disrupt the resistance's internal communications."

In the wake of the IDF censor's call on Israeli citizens not to spread photos Hamas purports show the Israeli Special Forces soldiers, the website of Hamas's military wing was blocked in Israel.

Meanwhile, the army announced Tuesday that IDF Chief of Staff Gadi Eisenkot has appointed Maj. Gen. Nitzan Alon to head an inquiry into the failed Gaza operation.