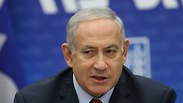 Prime Minister Netanyahu
Photo: Alex Kolomoisky
Police: Sufficient evidence to indict Netanyahu in Case 4000
After conclusion of investigation in the Bezeq-Walla! News corruption cause, Israel Police and Israel Securities Authority says there is evidence to charge Prime Minister Netanyahu with bribery, fraud and breach of trust after he allegedly made regulatory decisions to benefit Bezeq in return for favorable coverage in Walla! News.
The Israel Police announced Sunday morning that there is sufficient evidence to indict Prime Minister Benjamin Netanyahu for bribery, fraud and breach of trust in Case 4000, which deals with suspected corruption tied to telecommunications giant Bezeq and the Walla! News website.

Prime Minister Netanyahu is suspected of taking bribes and acting in a conflict of interest by promoting regulations worth hundreds of millions of dollars to Bezeq and its majority shareholder Shaul Elovitch, including Bezeq's merger with the satellite TV company Yes. In return, the prime minister allegedly demanded—both directly and indirectly—to receive favorable coverage on Walla! News, which is owned by Bezeq.

Police have already recommended indicting Netanyahu on corruption charges in two other cases. One involves accepting gifts from billionaire friends, and the second revolves around alleged offers of advantageous legislation for a newspaper in return for positive coverage.

All three cases now await the decision of Attorney General Avichai Mandelblit, who is the only one authorized to order the investigation or indictment of a sitting prime minister.

The Bezeq case, known as Case 4000, is the most serious of all those of which Netanyahu has been accused. Two of his top confidants have turned state witnesses and are believed to have provided police with incriminating evidence. Netanyahu held the government's communications portfolio until last year and oversaw regulation in the field.

Police say the investigation, which included the testimony of 60 witnesses, revealed that Netanyahu and Bezeq boss Shaul Elovitch engaged in a "bribe-based relationship."

From 2012 to 2017 the prime minister and his associates "blatantly intervened" on a near-daily basis in the Walla! News site, using the connections with Elovitch and his wife Iris to influence appointments there and to promote flattering articles and pictures while quelling critical stories of the prime minister and his family, police said.

Police also said the Elovitch couple influenced the content published on Walla! News in return for regulatory decisions made by Netanyahu, which benefitted Shaul Elovitch and the Bezeq company.

The prime minister has denied any wrongdoing, dismissing the accusations as a witch hunt orchestrated by the media.

"The police recommendations regarding me and my wife don't surprise anyone. These recommendations were decided upon and leaked even before the investigation began," he charged. "The police recommendations have no legal status. Just recently, the authorized bodies completely rejected the police recommendations against a series of public officials. I am sure that also in this case the relevant authorities, after examining the matter, will reach the same conclusion— that there was nothing because there is nothing."

The police presented the following conclusions from the investigation:
There is sufficient evidence to indict Prime Minister Benjamin Netanyahu for taking bribes, fraud and breach of trust, and fraudulently obtaining benefits under aggravating circumstances.
There is sufficient evidence to indict Sara Netanyahu, the prime minister's wife, for taking bribes (along with Netanyahu), fraud and breach of trust (along with Netanyahu), and obstruction of justice.
There is sufficient evidence to indict Shaul Elovitch for giving bribes, obstruction of justice, money laundering and reporting offenses in violation of the Securities Law.
There is sufficient evidence to indict Iris Elovitch for giving bribes, obstruction of justice and money laundering.
Police also noted there is sufficient evidence to indict Amikam Shorer, the former chief strategy and corporate development Officer at Bezeq; Ze'ev Rubinstein, a businessman with close ties to the Netanyahu and Elovitch families who serves as the vice president of business development at the Israel Bonds; Stella Handler, the former CEO of Bezeq; and Or Elovitch, Shaul and Iris Elovitch's son and a board member at Bezeq.
Police also cleared several suspects, including media advisor Eli Kamir, attorney Eitan Tzafrir and the prime minister's son, Yair Netanyahu.

The case began with an investigation of the Israel Securities Authority into Bezeq, which raised suspicions over the conduct and interference of the Communications Ministry director-general, Shlomo Filber, concerning different regulatory matters in which he allegedly gave special treatment to Bezeq and Shaul Elovitch. Filber allegedly hid this activity from professional and judicial officials in the Justice Ministry, the Communications Ministry and the Finance Ministry.

The initial investigation findings were passed on to the State Attorney's Office's Taxation and Economics Department, which after examining the material recommended expanding the investigation and launching an investigation against the prime minister. The attorney general accepted the recommendation and ordered the opening of a joint investigation to the police and the Israel Securities Authority.

During its investigation, the police signed state's witness agreements with two of the suspects—former Communications Ministry director-general Shlomo Filber and former Netanyahu advisor Nir Hefetz.

From February 2018 to November 2018, police questioned 13 suspects under caution and collected testimony from 60 different witnesses both in Israel and abroad. The police also gathered evidence in the form of recordings and documents. During the investigation, the police seized and confiscated assets and money from suspects amounting to NIS 118 million.

Shaul Elovitch's attorney, Jacque Chen, said in response: "For a while now that the police with their leaks have been preparing us for this recommendation. This is yesterday's leftovers, and there is nothing new under the sun... Mr. Elovitch is insisting that he did not commit any offense."

Iris Elovitch's lawyer, Michal Rozen-Ozer, noted that "Today's police recommendations are part of the tendentious nature of the investigation and arrest of Mrs. Elovitch to begin with. We hope the prosecution could break free of this tendentiousness and examine the evidence. We have no doubt such an examination would show Mrs. Elovitch committed no offense."
Calls on Netanyahu to resign
"The most serious bribery case yet leaves no room for doubt: a prime minister who is accused of the most serious offense for a public servant in the Israeli rule book cannot keep serving one minute longer," said Tamar Zandberg, head of the dovish opposition Meretz party. "The prime minister has no moral mandate to keep his seat and must resign today. Israel must go to elections."

Other opposition figures, including opposition leader Tzipi Livni, quickly joined in the call for Netanyahu to resign.

Netanyahu's colleagues in the ruling Likud party have lined up behind up, attacking outgoing Police Commissioner Roni Alsheikh for releasing the recommendation on his last day on the job. The appointment of Alsheikh's potential successor is being held up after a government-appointed committee rejected his candidacy.

The other coalition partners have previously deferred bolting, saying they would await a formal decision by Israel's attorney general to press charges. But the latest development further threatens the wobbly government, already weakened by the recent departure of Defense Minister Avigdor Lieberman and his party.

Some analysts have said Netanyahu could call a snap vote in light of the legal proceedings against him. The next national election is not due until November 2019. But Netanyahu may want to seek a renewed mandate from the people, forcing a prosecutor to think twice before indicting him.

Netanyahu has said he wants his coalition to keep going until the end of its term, but politicians close to him say that given the coalition's shaky razor-thin majority, an early election is likely.

The Associated Press and Reuters contributed to this story.