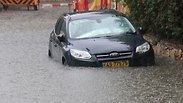 Flooding in Rehovot
Photo: Avi Mualem
A winter storm that hit Israel on Thursday caused flooding in different areas of the country. Fifty children and their teachers were safely rescued from three kindergartens in Rehovot.
צילום: אורלית אלקלעי, אייל להמן, אבי מועלם, אביבית צנטי
In Tel Aviv, massive puddles formed on the busy Allenby Street and in nearby street, while traffic congestion blocked the Azrielly Junction after the stop lights stopped working. Roads were also flooded in Rishon LeZion, where the municipality drained water in the eastern part of the city. Two streets were flooded in the Yavne industrial area.
So far, the Hadera Stream area saw the most rainfall, with 20 mm falling in one hour and a total of 40 by 8am Thursday. Zikhron Ya'akov also registered a lot of rain, with 28 mm, while Bat Yam experienced 23 mm, Acre 18 mm and Netanya and Haifa 17 mm each. Raanana reported 15 mm of rain, while Rishon LeZion saw 14 mm.


Meteo-Tech meteorologist Tzachi Waxman said the worst of the storm is still ahead, with the coastal area and the north expect to get the brunt of the rainfall.
Lightning in Ramat Gan (צילום: אורן רייס, יובל סופר)
"This is the most serious storm since the beginning of the season, which officially marks the beginning of winter," he said. "Snow began falling at the top of Mount Hermon this morning. I estimate that by tomorrow morning, it'll cover the top part of the ski site."
Ahiya Raved, Ittai Shickman and Roi Rubinstein contributed to this story.