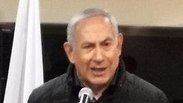 Netanyahu briefing foreign ambassadors
Prime Minister Benjamin Netanyahu said Thursday there is "reasonable possibility we will have to operate in Lebanon" as part of the IDF's Operation Northern Shield to uncover and destroy Hezbollah tunnels that cross the border into Israel.
"We are systematically and decisively denying our enemies the tunnels weapon. We are doing this with Hamas, and with Hezbollah; we will do whatever is necessary," Netanyahu told 25 foreign ambassadors during a tour of the tunnel site in the upper Galilee. "This operation is just beginning but in the end, the tunnels weapon, in which Hezbollah has invested so much, will not exist and will not be effective."
"Whoever attacks us – is taking his life into his hands. Hezbollah knows this and so does Hamas," he added.
"Israel expects an unequivocal condemnation of Hezbollah, the imposition of additional sanctions on Iran, a condemnation from the Lebanese government and a demand that it stop giving its approval for the use of its territory for these attacks against Israel," the prime minister stressed.
Netanyahu said Israel plans to demand a response from the international community at a meeting of the UN Security Council called for by Israel.
Netanyahu briefs foreign ambassadors
The prime minister confirmed that the impending Operation Northern Shield was part of the reason why the Security Cabinet decided to continue pursuing an arrangement with Hamas in Gaza after the last flare-up, which saw over 500 rockets fired by terror groups in the strip at Israel.
"We're preparing on all fronts, and I will determine the timing (for fighting) on each front. They can't do anything because we neutralized them. It's one of the reasons we didn't go on an operation in Gaza, but not the only reason," he said.
The ambassadors were briefed by GOC Northern Command Maj.-Gen. Yoav Strick and Planning Directorate Commander Maj.-Gen. Amir Abulafia, and toured the area of the exposed tunnel.
A senior Israeli intelligence explained Netanyahu decided to tour the operation's area with the ambassadors "to create diplomatic legitimization for further action down the road—if and when we need it."
"We're trying to de-legitimize Hezbollah," he explained. "They infiltrated our territory. We're convening the Security Council at the end of the week or early next week, and we'll start applying the same pressure we put on Hamas—not just against the tunnels, but also to make it clear this is a terror organization that is here to kill civilians."
The official said the IDF chose to launch the operation on the Lebanese border now to stop Hezbollah from learning of it ahead of time. "If Hezbollah found out that we know (about the tunnels), they might have accelerated the efforts to carry out a kidnapping. We didn't want to reach a situation in which they infiltrate and capture a soldier or a civilian," he said.
The official also noted Russian presence on the Syria-Lebanon border is significantly slowing down Hezbollah's efforts to convert its regular missiles into precision-guided ones. "We're using a plan that exposes and deprives them of their conversion sites for such a weapon. They were neutralized and eliminated by mere words," he said. "If Iran tries to transfer such weapons to Lebanon, the state of Lebanon will get into a big mess."
Furthermore, "according to Nasrallah's plan to develop accurate weapons, they were supposed to have thousands of accurate missiles by now. In reality they have mere dozens," the senior official explained. "It happened because we disrupted their operations."
However, Israel's main enemy remains Iran. "The result of our operations in Syria is a drop in the (Iranian) order of battle there. We acted against the Iranian militias and blew up their bases," he said. "As a result of the sanctions regime against Iran, their cash flow dropped by tens of percents."
Iran too has tunnels, he said. "The tunnels are wide and the goal is to have battalions, large forces, infiltrating Israeli territory, go on a killing spree and take over communities."