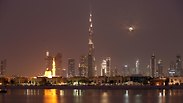 After years of keeping a low profile, the small Jewish community in Dubai is officially inaugurating the country's first synagogue, according to the Bloomberg news agency.

Until now, the local Jewish community, composed mainly of businessmen in the finance, energy and diamonds industries, has kept its activities discreet in a villa located in one of the main residential areas.

The villa includes a prayer area, a kosher kitchen and a number of bedrooms designated for Shabbat-observers. Now, this activity will be carried out openly.

"We've come a long way since we started working with Dubai 30 years ago," said Eli Epstein, a New Yorker who donated the Torah scroll to the Jewish building. "Back then, people told me I should not use my real name, because it sounds too Jewish."

The decision to carry out Jewish activity out in the open is the United Arab Emirates is the result of the thawing of relations between Israel and the Gulf states.

Prime Minister Benjamin Netanyahu's surprise public visit to Oman last month was the first harbinger of change in attitudes. It was followed by visits by ministers Yisrael Katz and Eli Cohen to Oman and Minister Miri Regev to Dubai. Meanwhile, Israel and Saudi Arabia's shared enemy, Iran, brings the two nation closer together.

Despite the public inauguration of the synagogue, many in the local Jewish community, who have maintained discretion over the years, would have preferred to continue keeping a low profile. Public opinion in the country is mostly pro-Palestinian and there are locals who view the warming of relations with Israel as a kind of betrayal.

On the other hand, one member of the community, attorney Ross Kriel, says, "I feel that the authorities want us to feel comfortable and be able to pray openly and without hiding it."

On Shabbat and Jewish holidays, several dozen of the 150 members of the Jewish community gather at the villa for prayer and joint events. The community itself does not have a rabbi, but there are occasional visits by rabbis.

After services, which also includes a blessing for the well-being of the leader of Dubai, those present sit down to a Shabbat meal that includes traditional cholent (Shabbat stew)—although without meat, since kosher meat can not be obtained in the country.