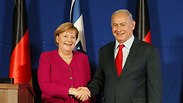 German Chancellor Angela Merkel and PM Netanyahu
Photo: Amit Shabi
The Israeli government sent an official letter to Chancellor Angela Merkel demanding Germany to halt its funding for the Jewish Museum in Berlin over an exhibition "that reflects the Palestinian-Muslim view on Jerusalem."

Copies of the seven-page letter, which was published by the left-wing Die Tageszeitung newspaper, was sent to Merkel's office and to Germany's Federal Ministry of Economic Cooperation and Development, rather than to the Israeli Embassy in Berlin, as accustomed in such cases.

In addition to the Jewish Museum, the letter details about a dozen NGOs that are involved in anti-Israeli propaganda or support the BDS movement—among them the Berlin International Film Festival, the Berlinale, which allegedly hosts BDS supporters; Women Wage Peace; Bread for the World; Action Medeor; the Catholic Relief Services; and the Israeli +972 magazine, which accuses Israel of having an apartheid regime and is endorsed by the Heinrich Böll Foundation.

A spokesperson for the German government confirmed that Israel and Germany had discussed these NGOs' state funding in the past.

The Jewish Museum said in a statement that "We believe open dialogue on controversial issues is crucial to allow (the museum's) visitors to form their own position on the matter and judge it for themselves."

The Heinrich Böll Foundation rejected the Israeli government's accusations as "absurd," adding that "Unfortunately, Israel is applying increasing pressure on NGOs in Israel and in Palestine. The +972 magazine reflects pluralism, and Israel's demand constitutes an attack on prominent Israeli journalists."

Prime Minister Benjamin Netanyahu's Office said in an official statement that "the prime minister has pointed out to various world leaders the issue of funding Israeli and Palestinian NGOs, which portray IDF troops as war criminals, support Palestinian terrorism and call for the boycott of the State of Israel. Israel will continue fighting these organizations."

Meanwhile, Meretz Chairwoman MK Tamar Zandberg criticized Israel's demand.

"While Netanyahu acts against the Jewish Museum in Berlin, he is aiding Hungary's anti-Semitic Prime Minister Viktor Orbán in establishing a dubious Holocaust Museum that absolves Hungary from its part in the Holocaust.

"This is only a fragment of the government's sick relationship with Nazis and anti-Semites. I fail to understand how the prime minister is capable of looking in the eyes of Holocaust survivors, after transforming the Israeli government into a government that lends a hand to Holocaust denial," she said.