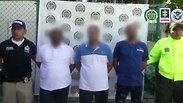 Israeli suspects arrested in Colombia
Israeli nationals arrested in Colombia over sex trafficking (מתוך טוויטר של התובע המחוזי בקולומביה)

Several Israeli nationals have been arrested in Colombia on suspicion of soliciting women and teenage girls to engage in prostitution under the guise of a tourist company offering tour packages from Israel to Colombia.

While various local media outlets reported that 14 Israelis had been detained, the Israeli Foreign Ministry claimed that so far only four of the country's citizens are under arrest.

The police investigation revealed that the Israeli suspects marketed the illegal sex business mainly to Israeli tourists, most of whom were businessmen and discharged IDF soldiers.

According to Colombian authorities, eight members of the sex trafficking network, including two Colombians, are already in custody while international arrest warrants were issued for the remaining suspects.

The network's holiday packages included accommodations, as well as drug-fuelled private yacht tours and parties, where women and underage girls were offered as "sex slaves."

Authorities also raided a number of properties belonging to the suspects, including a spa in the resort village of Taganga, a building known as Casa Madeline, and a hostel in Colombian capital of Bogotá.

These properties were allegedly used exclusively to host the Israeli tourists, and served as safe havens for sexual exploitation of women and for drug use. Overall, the police seized property worth some $45,000.

The prosecutor's office in Colombia said the investigation into the alleged sex trafficking ring began in June 2016.

"The investigation into the sexual exploitation of girls was started the day Israeli national Shay Azran was murdered in Medellin, which was ordered by another Israeli over a property dispute," the Colombian prosecutor's office said.

The prosecutor's office also claimed the person who put out a hit on Azran was an Israeli businessman—Assi Ben-Mosh—who was extradited back to Israel in November 2017 following suspected drug and tax offenses, as well as soliciting minors for prostitution.

Ben-Mosh also reportedly turned Hotel Benjamin in Taganga, which he owned, into a drug and prostitution den.

This led the investigators to believe that Ben-Mosh was the one overseeing the sex trafficking network, and the purpose of his visits to the Latin American country was to receive reports from his colleagues—Itay Senyor and Mor Zohar—regarding the business's operations.

According to the report, Ben-Mosh has set up sexual exploitation centers and drug dens all over Central and South America, all operating in a seemingly legal manner under the guise of hotels and spa resorts.

To recruit sex workers, Ben-Mosh's people began scouting local schools and forcing young girls from low socioeconomic background to participate in large-scale sex parties, while they were reportedly under the influence of drugs.

Authorities claim that the profit made from pimping was used to invest in companies and real estate.

Testimonies by the underage victims reveal that a sex worker usually received between 200 and 400 Colombian pesos ($0.06-$0.13) for "their ability to tolerate the harassment of Israeli tourists," and had been forced to join WhatsApp group called "Purim."