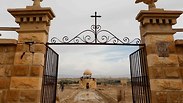 The Qasr al-Yahud baptism site
Israeli and foreign engineers sounded the all-clear this week around three churches on the western bank of the Jordan River, near where Jesus is believed to have been baptized, after mines that had marooned the shrines for decades were cleared.

The river banks were once a war zone between Israel and Jordan, and were littered with thousands of landmines and unexploded ordnance. The two neighbors made peace in 1994 but it took many years before the defusing and clearing began.

Seven churches have lain abandoned for more than 50 years in the area of operations, about a kilometer (half-mile) from the Qasr al-Yahud baptism site in the West Bank, which is a major draw for Christian pilgrims.

Israel's Defense Ministry said on Sunday that mine-clearing had been completed around three of the shrines—belonging to the Franciscan order and the Greek Orthodox and Ethiopian churches—though they have yet to be formally opened to the clergy or the public.

"The clearing and releasing of this land, and the opportunity to return it to its religious guardians, is a project in which we take great pride," Marcel Aviv, head of the ministry's de-mining department, said in a statement.

Work around the other four shrines—Syrian Orthodox, Coptic, Russian Orthodox and Roman Catholic—would take months to complete, Israel said. Engineers worry that some of them might have been booby-trapped.

The Halo Trust, a Scottish-based charity that has cleared minefields worldwide and was once sponsored by the late Princess Diana, has also been involved in the project near Qasr al-Yahud.

The charity's CEO, James Cowan, said donations had come from Christians, Jews and Muslims worldwide.

"This Christmas/holiday season, the Halo Trust has reached a pivotal point in our work to clear the Baptism Site of landmines and other remnants of war ... which will ultimately benefit all humanity," he said.