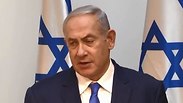 Prime Minister Benjamin Netanyahu discusses Hezbollah's tunnels ahead of a UN Security Council debat
Prime Minister Benjamin Netanyahu on Wednesday urged the United Nations Security Council to take action against Hezbollah over its tunnels dug from Lebanon under the Israeli border. He said the international body should to condemn the Lebanese militant group's "wanton acts of aggression," designate it a terrorist organization and heighten sanctions on it.
Speaking ahead of a Security Council session on the issue, Netanyahu said UNIFIL, the UN presence in Lebanon, should be granted "unrestrained access to any area in southern Lebanon," where the Iranian-backed Hezbollah has traditionally operated unfettered. He said that UNIFIL should not be hampered in its work, or restricted by Hezbollah or the Lebanese army in any way.
The tunnels were "an act of war" that was imperiling Lebanon, he said.
"I demand that UNIFIL meet its mandate," Netanyahu said, adding that the organization must report "any violations" of UN Resolution 1701 to both the United Nations and Israel.
The resolution ended the 2006 Second Lebanon War, during which Israel and Hezbollah fought a 33-day destructive battle following the abduction of two Israeli soldiers by the Lebanese terror group.
"I hope the UNSC stands up for the truth and takes the necessary action," Netanyahu said, and called on the UN Security Council to "stand up for truth and peace and security and take necessary action."
He said that Israel "has the right to defend itself against Iranian aggression," and "will continue to take all the necessary action to protect our people and defend our borders."
Israel announced the existence of the tunnels at the start of the month, along with the IDF operation to locate and destroy them. So far, Israel has uncovered four tunnels, and says it has been planning the operaration for years.
"Very few people knew (about the tunnels), but they know about it now," Netanyahu said at his press conference Wednesday.
The prime minister's comments come hours after he said that Hezbollah has "at most, a few dozen" precision-guided missiles, having shut down factories for converting such weapons in Lebanon after Israel exposed them in September.
"Those sites near the Beirut airport, the underground sites for precision conversion of missiles, which IDF intelligence gave me, to expose, those sites were closed," he told an economic conference. "They are trying to open other sites. But through these measures we are denying them precision arms."