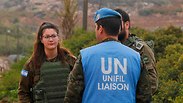 UNIFIL peacekeepers in Lebanon
Photo: AFP
Israel rapped the United Nations peacekeeping force in Lebanon on Wednesday, as the UN Security Council gathered in New York to discuss the issue of Hezbollah tunnels dug into Israeli territory.
Israeli Ambassador to the UN Danny Danon said information Israel provided to UNIFIL, the UN's peacekeepers in Lebanon, had been passed to the Lebanese Army, which then passed it to Hezbollah, who then attempted to conceal the tunnels on the Lebanese side. He said Hezbollah planned to use the tunnels to carry out a five-point attack on Israeli civilians at five different locations in the Galilee. He also displayed an image of a tunnel that ran directly under the feet of the UNIFIL troops, claiming that there were areas where the peacekeepers could not go.
UNIFIL's chief, Jean-Pierre Lacroix, earlier confirmed the organization has asked Lebanon to assist in tracking the tunnels on the Lebanese side of the border.
The Lebanese envoy denied that the country had violated UN Security Council Resolution 1701, which ended the 2006 Second Lebanon War fought between Israel and Hezbollah. She said that the world turned a blind eye to Israeli violations of international law, charging that a double standard was in play.
Lebanon, the envoy said, has no aggressive ambitions, but carries the memories of four Israeli invasions. The country was determined to uphold security in southern Lebanon and said there would be patrols along the shared border with Israel.
The Iranian-backed and heavily armed Hezbollah, meanwhile, found itself in the crosshairs as nation after nation called for Lebanon's army to be the only military force in the country.
Britain, France and the US all called the tunnels a violation of Resolution 1701. The US questioned whether any further proof was needed that Hezbollah posed a genuine threat to the stability of the region.
France urged both sides to maintain calm on the frontier, and called on the Lebanese army to aid UNIFIL, as it worked to investigate the tunnels. The US also called for UNIFIL to investigate the tunnels, while the UK said Israel has the right to defend itself against Hezbollah.
The UK, Sweden, and The Netherlands all urged Israel not to violate Resolution 1701.
UNIFIL's French chief, Jean-Pierre Lacroix confirmed the organization has asked Lebanon to assist in tracking the tunnels on the Lebanese side of the border.
Kuwait, meanwhile, accused Israel of exaggerating the severity of the tunnels and claimed it was violating Resolution 1701. It said the tunnels were a legitimate form of defense for Hezbollah and said that Israel must end its occupation of Lebanese territory, namely the Sheba Farms.
Earlier in the day, Prime Minister Benjamin Netanyahu urged the UNSC to take action against Hezbollah over its tunnels. He said the international body should condemn the Lebanese militant group's "wanton acts of aggression," designate it a terrorist organization and heighten sanctions on it.