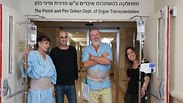 The recipients of kidney transplants
Photo: Abigail Uzi
In Israel, there is an interconnected group of people who, only a short while ago, were complete strangers but are now organically connected after an unprecedented operation in which four willing donors shared one of their kidneys with four recipients who desperately needed them, saving their lives.
In a record-breaking "cross-transplant" procedure performed by doctors at Beilinson Hospital in Petah Tikva, four donor kidneys were transplanted simultaneously to the bodies of four different patients in the space of 48 hours.
Most people are born with two functioning kidneys, but their blood filtering capacity is actually far beyond 100%, thereby allowing for someone to donate one kidney without suffering any negative effects. According to Israeli law, a kidney donation must be either from a relative or through an altruistic kidney donor.
The transplant chain was facilitated by Matnat Chaim, an Israeli non-profit dedicated to encouraging healthy volunteers to donate kidneys to patients requiring a transplant. The organization, which has already facilitated 626 transplants to date, was founded in 2007 by Rabbi Yeshayahu Heber after he found himself needing a kidney, finding a donor and then setting out to help others who were in the same predicament.
This kidney donor chain began with altruistic donor Benjamin, who donated to a man named Lee. Yardena, Lee's partner, in turn donated a kidney to a woman named Leah, whose son, Yonatan, donated a kidney to a man named Suheib. Suheib's mother, Maison, then donated her kidney to a woman named Gil—who was meant to be the original recipient of the kidney donated by Benjamin.
"I approached Matnat Chaim Chairman Rabbi Heber and asked him to help me find a kidney donor," said Gil, 36, adding, "to my delight, Benjamin, a person I don't even know, agreed to donate his kidney … unfortunately though he wasn't a match."
After tests conducted by doctors at Beilinson ahead of the planned cross-transplant, a possibility arose for Gil to be at the receiving end of a new kidney.
"We have all become like family," Gil continued, "All of us are from a different background—religious, secular, right and left-wing, Jews and Arabs—there is now a special connection between us."
Yonatan Tager, who was also part of the record-breaking transplant, said he "didn't hesitate" donating his kidney in order to save his mother's life.
"My mother had a severe decrease in kidney function and her condition deteriorated to the point that she required an urgent kidney transplant," says Yonatan. "At the hospital we were offered to participate in a cross-transplant, meaning that I would donate my kidney to someone else and in return my mother would be matched with a donor."
Prof. Eitan Mor, who heads the Beilinson transplant center, said that a procedure involving four transplants is extremely complicated and requires "precision," and "maximum compatibility between patients and donors."
"Patients can wait for years to find a matching donor, and the cross-transplant program provides a solution … I'm sure this breakthrough will lead to further operations of this nature."