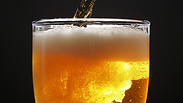 Beer (file photo)
Photo: shutterstock
For many months, Israeli farmers living on the border of the Gaza Strip were forced to stand by and watch as their fields went up in flames caused by incendiary balloons and kites sent by Palestinians. Now, together with Alexander Brewery, they are using the wheat that survived their singed harvests into liquid gold

"Every farmer looks forward to harvest season. Once a year, we get to see the product of our Sisyphean work. There is no greater letdown than seeing your work erased in an instant," said Reuven Nir, the field crops manager for Mefalsim and Kfar Aza, kibbutzim in southern Israel, close to the border with Gaza.


"Only farmers will understand what it means to have your fields burn down. It's a tremendous loss. I just stood here on the verge of tears," said Danny Rahamim, the field crops manager of Kibbutz Nahal Oz. "Everyone is walking around grieving over the loss of their crops."

Nearly all of Israel's wheat production, estimated at about 175,000 tons per season, comes from the communities surrounding Gaza.

Most of the communities make their living from agriculture, growing wheat and various other products. About 45,000 dunam (some 11,000 acres) of wheat fields are grown in these communities every year. This year, 7,000 dunam of wheat fields were burned down due to the arson devices sent over from Gaza.

The wheat that survived the flames was harvested, transferred to the brewery, and the result is a brand new beer. Helped by the field owners, the Alexander Brewery used the region's wheat to produce a special edition of beer, with all profits going to local farmers.

"I cannot be indifferent to the heart-wrenching scenes of burning fields. My heart goes out to the farmers... the Gaza Border Beer is an excellent Israeli beer that showcases the quality wheat grown by our dear friends," said Ori Sagi, founder of Alexander Brewery.