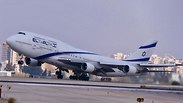 More than any other country in the world: Israelis travel abroad in millions, and the number has doubled in seven years—from 4.35 million exits in 2012 to 8.5 in 2018.

The numbers include Israelis who went abroad more than once during 2018, Israelis who live abroad, and Israelis who live abroad and visited the country for family visits.

According to Ronen Karaso, vice president of the Issta travel company, the strong shekel against weaker foreign currencies makes it easier for Israelis to venture to far-flung lands.

"A drop in foreign currencies made vacations cheaper for Israelis," he said. "Half of the cost goes on flights and accommodation. Air prices have also dropped due to increasing competition."

The number one destination for Israelis is the United States. A large number of direct flights to New York, Boston, Los Angeles, San Francisco and Miami, and cheaper flights via Europe make it a sought-after destination.

The second most-visited destination was the Greek islands, and 2018 saw a large increase in demand for flights there.

Other destinations that saw a growth in Israeli traffic during 2018 were Poland (mostly Warsaw), Italy, Ukraine, Germany, Zanzibar and London.

This year there has been an increase in Israeli tourism in Vietnam and Japan, despite the fact there are no direct flights to these destinations. After a long wait and efforts, direct flights between Israel and Japan are to start on September 2019.