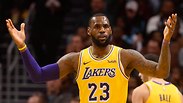 Lebron James
Photo: Reuters
American basketball champion Lebron James apologized Sunday for posting anti-Semitic rap lyrics on his massively popular Instagram account over the weekend.

"Apologies, for sure, if I offended anyone," James told ESPN, referring to his post with lyrics including the words "getting that Jewish money" on his account, which has 45.8 million followers.

The lyrics are from the song "ASMR" by hip-hop artist 21 Savage. James posted the lyrics, "We been getting that Jewish money, everything is Kosher," onto his Instagram Stories on Saturday, while riding as a passenger in a vehicle clad in a purple sweatshirt of his team the LA Lakers.

"That's not why I chose to share that lyric; I always (post lyrics), that's what I do. I ride in my car, I listen to great music and that was the byproduct of it," he said. "So, I actually thought it was a compliment and obviously it wasn't through the lens of a lot of people; my apologies. It definitely was not the intent, obviously, to hurt anybody."

After sports business reporter Darren Rovell of The Action Network posted a screen shot of the athlete's Instagram story to Twitter on Sunday, James received some criticism online.

But the world-famous player said that he viewed the lyric as complimentary towards Jewish people for their reputed business acumen. However, the historic stereotype linking Jewish people to money makes it understandable that many would find the lyrics offensive.

"Historically, Jewish materialism was used by anti-Semites seeking to demean the value of Judaism," Yale professor Eliyahu Stern told the Times of Israel in August 2018. "It's often been used as a way of delegitimizing Judaism's spiritual and religious values by those who depict Judaism as a cover for hoarding, egoism, and an expression of difference."

Many of Lebron's fans came to his defense, arguing that he cannot be accused of anti-Semitism for merely sharing somebody else's lyrics. But Rovell asked if "quoting lyrics from a song absolve the person quoting from the responsibility behind the words? I'd argue no, especially with a following of 45 million."