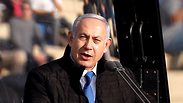 Benjamin Netanyahu addresssing graduating pilots at an air base in the Negev, December 26, 2018
Photo: Reuters
Israel will not let Iran embed its troops in Syria, Prime Minister Benjamin Netanyahu said Wednesday, a day after an airstrike attributed to Israel reportedly targeted Hezbollah or Iranian weapons depots in the war-torn country.
"Israel is operating against the Iranian entrenchment in Syria," the prime minister told new pilots at an Israel Air Force graduation ceremony.
Tuesday night's missile strikes triggered Syrian air defenses, with one of the anti-aircraft missiles crossing the border into Israeli airspace. The missile set off Israel's own air defenses, with residents of the center of the country reporting hearing a loud boom and seeing smoke trails. Russia, which has a sizeable presence in Syria backing President Bashar Assad, later called the airstrike "provocative" and said it endangered two civilian passenger jets.
Israel traditionally does not confirm or deny airstrikes it carries out against targets in Syria, but has vowed to prevent the Iranian-backed Hezbollah terror group from acquiring advanced weaponry via Syria. Both the Lebanese-based Hezbollah and Iran have a presence in Syria, ostensibly to help oust Islamic State from the country. Israel has warned against Iran taking root on the Syrian side of the Golan Heights, along the Israeli border.
"The State of Israel is counting on you, and I'm counting on you," Netanyahu told the new pilots Wednesday at the ceremony at Hatzerim air base in the Negev. "I accompany our pilots all the time, usually in the wee hours of the night when I stay awake next to the red phone to hear from the military secretary that the mission, complex as it may be, was successfully carried out and that all our forces have safely returned home."
Netanyahu also commented on the American withdrawal from Syria, stating Israel would not change its policy.
"Protecting our homeland begins nipping major threats in the bud. We'll not accept Iranian entrenchment in Syria, which is meant to harm us and we are acting to eradicate it. US President Donald Trump's decision to pull out from Syria doesn't change our policy. Our red lines remain the same—in Syria and everywhere else," he said.
"This graduation ceremony represents the young generation, those who were born in Israel and those who immigrated to this country. The Israeli melting pot gives everyone equal opportunities. You have one mission which was the center of your training: to protect the homeland and win the war," the prime minister said.
IAF Commander Maj. Gen. Amikam Norkin also alluded to IDF activity in Syria, saying that "the Air Force operates on several fronts, and our aircraft were involved in an offensive as well as in defensive activity. The IAF in cooperation with Intelligence Corps prevented Iranian forces from establishing their military abilities in the north."
Norkin added that, "If the need arises, we'll utilize air and ground forces."