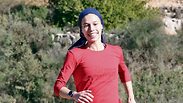 Israel's most unlikely marathon runner spends her Thursday preparing food for Shabbat. For that's what you do when you are the first female Haredi marathon runner in the country and you have a race Friday morning.
It may sound improbable, perhaps preposterous, but 29-year-old Bracha "Beatie" Deutsch is the real deal. The first female Haredi athlete shocked everyone by winning Israel's National Half Marathon Championship in December, with a personal best of 1 hour, 19 minutes and 51 seconds.
Deutsch is keeping things in perspective. "It's much harder to mother five children than to run a marathon," she says. "Running is a piece of cake compared to potty training."
Indeed, her Instagram seems to reflect her two loves - her children and running, and is filled with photos of both. Her user name, perhaps unsurprisingly, is "marathonmother."

Deutsch's win is an incredible achievement for an athlete who only started training three years ago. The crowd took notice of her early in the race because of her modest running outfit. Up until the race, Deutsch wasn't known to sports fans. Even at the Israeli Athletic Association no one heard about her.
While she was competing, her husband Michael, a yeshiva teacher and computer science student, stayed home to watch over their children. He received the good news by phone as soon as she crossed the finish line.
"I felt really good towards the end of the race," she said afterwards. "God gave me the strength to finish the run well."
"It's factually true, I'm the first Haredi champion," says Beatie, who immigrated to Israel from New Jersey eight years ago. "There is only handful of ultra-Orthodox athletes. Most Haredi people are busy with learning the Torah and have no time to even think about sports," she says.
"Many people ask me if there's a contradiction between religion and sport, and I really don't see it that way… Taking care of both body and soul is considered a mitzvah. In the Haredi world, when you deviate from the norm, there will always be criticism, but I knew I was doing something right," she adds.
For Deutsch, every run is spiritual.
"For me, running is first and foremost a way to break free from all the distraction. I can get a spiritual high from running… I talk to God when I run. Some people go to the woods to talk to God; I do it on a run," she says.
'My husband believes in me'
Deutsch has been active in sports since she was a child in the United States, "I actually practiced taekwondo in the U.S.," she says. "But since moving to Israel eight years ago, I stopped when I became a mom. I had five children in six years, and no spare time. I didn't even think it was possible. Only when my sister beat me at running, a few months after I had my fourth child, did I realize it was time to get back in shape. I set running a marathon as a goal in order to push myself."
It wasn't long before Deutsch started competing in long-distance marathons.
"The Tel Aviv Marathon was my first competition. I figured I would finish in about 4:40 hours, a reasonable result for my first time. But my husband Michael thought I would do much better. He knew what I was worth and estimated that I would finish in around 3:30 hours. I was utterly astonished to discover I completed the run in 3:27.26 hours, a great time for a first-timer with no experience."
The following year, while seven months pregnant, Deutsch completed the Tel Aviv Marathon. But don't worry, she signed up for the race only after her father, an obstetrician, reassured her that competing presents no danger to her and the fetus. She managed to complete 42.195 kilometers in 4:07 hours— an amazing score for a pregnant woman. "When people saw me running during pregnancy, they said to themselves: If she can do it—we certainly can. Over all, I had a good pregnancy and a good delivery."
For industry experts, Deutsch's win is more than just a fluke.
Arie Gamliel, Israel's former long-distance champion who competed for Israel at the 1984 Los Angeles Olympics, was very impressed by Deutsch.
"She surprised me," he said. "Deutsch has excellent proportions for running—she is thin, relatively short, has a good rhythm and a good style. If she begins professional training, she will reach the highest levels."
Deutsch knows that she needs to step up her game and boost her training schedule if she wants to compete professionally.
While her children are still in bed and the streets are quiet, Deutsch, dubbed "Speedy Beatie" by her friends, wakes up at 5am every morning and goes for a run. On weekdays, she also runs at the Hebrew University Stadium all while working full time as a liaison for "Olami" international Jewish organization. "Winning the race will increase my credibility in the eyes of my students," she says.
Believing in the impossible
Deutsch is a member of the Jerusalem Second Wind Running Club and trains with coaches Etti and Yoram Einar. "It's a mixed group of religious and secular athletes," she says.
Are there other ultra-orthodox members in the group?
"There is another. Our role in the world is to take the raw material God has given us and to use it to the fullest. I have a talent for running, I have always loved running, and this experience brought me closer to God, who gave me these strengths and talents. My motto is: believe in the impossible, give all you have and ask God for His assistance."
And what does your husband think of this?
"He's very supportive. He's also athletic and enjoys cycling.
And the children?
"Although my children are small, before I compete, they ask me 'mommy, are you going to win?' The trophy I won at the Half Marathon Championship started a war between my children, they each wanted it for themselves!"
On January 4, Deutsch will compete in the Tiberias Marathon, where she hopes to place on the podium. And after that, she dreams of the Olympics. And while she is still very far from reaching that goal, she is definitely optimistic.
"I have patience," she says. "I've only been running for three years. I hope to be the first ultra-Orthodox Jewish athlete at the Olympics."
International sports media, which often dwells on the traditional clothing of female competitors, will probably show more interest in your competition outfit, which includes a skirt, a long sleeved shirt and a head covering
"I have comfortable skirts, and I'm glad that my modest attire doesn't jeopardize my chances of winning. The fact that female athletes don't have to expose their bodies to win championships is empowering to women."