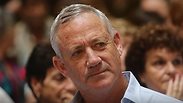 Benny Gantz
Photo: Alex Kolomoisky
Former chief of staff Benny Gantz ended months of speculation regarding his political ambitions on Thursday, registering a new political party, Resilience for Israel.

Gantz is now considering potential partners to join his party, and holding meetings with other party heads and senior political figures.

Gantz's campaign is being managed by publicists Itai Ben Horin and Tal Alexanderovich, who managed the 2013 election campaign of Shelly Yachimovich and the Labor Party, as well as the campaign of the current director of the Histadrut Labor Federation, Avi Nissenkorn, who ran against Yachimovich for the position.

Former mayor of Yerucham, Michael Biton, is among those tipped to join the new party. During the long period of speculation over Gantz's political prospects, Biton, a close associate of the former army chief, said that the Israeli people want "new blood" and are seeking good leaders who are affiliated with the moderate part of the political spectrum, instead of a leader who causes societal division.

Israel wants "responsible people, not radicals, not extreme right or extreme left, who understand the complexity and the common denominators among us, with a rich professional record and who are not corrupt," said Biton.

Gantz had maintained a deafening silence for months, even refusing to speak openly about his political ambitions with the people closest to him.

The former army chief has been courted by several party leaders, including the Likud's Benjamin Netanyahu, Yair Lapid of Yesh Atid, and Avi Gabbay of Zionist Union/Labor.

It has even been reported that Netanyahu offered Gantz the post of foreign minister to both woo him over to the Likud and neutralize what he saw as a real political threat (Netanyahu denied it; Gantz, refused to comment).

Lapid and Gabbay also bent over backwards, each offering him the number 2 spot on their Knesset lists as well as the role of defense minister should they be the one to form the next government. Last Thursday, Gabbay even presented his party's membership with a poll showing that the Zionist Union would take 29 out of the Knesset's 120 seats with Gantz in the No. 2 spot.

An associate of the veteran soldier said that as his political stock rose and his polling skyrocketed, Gantz fell in love with the idea of running on his own list in the top spot. Why should he be beholden to someone else?

"Gantz could be defense minister in any government that is formed, so he is not willing to gamble on joining a particular party, but would rather run under his own steam," says a source who recently spoke to Gantz. "He's a very calculating man and everything he does is checked a thousand times, sometimes to his own detriment.

Benny Gantz has several political associates, such as Adina Bar-Shalom, former Yerucham mayor Michael Biton and attorney Rachel Turjeman, as well as a number of personal advisers working with him behind the scenes.

A few weeks ago, close associates announced that they had formed the Ahi Yisraeli (My Israeli Brother) party, to create a platform for a future Gantz run. Gantz rejected this option, and Biton, announced last Saturday that he had decided to step down as chairman of My Israeli Brother to join whatever political entity Gantz chooses to form.

Netanyahu warned that Gantz would be making a mistake if he ran on his own ticket, as three moderate parties would fare less well against Netanyahu than one large one to going head to head with the prime minister.

Gantz does instill a certain amount of fear in Netanyahu and his people. After all, he did try to lure him over to the Likud. A few weeks ago, a senior Likud minister close to the Netanyahu's said in a closed-door conversation that he had "embarrassing material" on Gantz and would release it as soon as the former army chief announced his entry into politics.

In any case, Gantz will undoubtedly be one of the most fascinating figures of the 2019 elections.