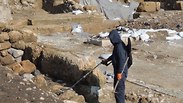 Antique robbers at work in the Hukuk archeological site
Photo: IAA's Theft Prevention Unit
A ring of antiquities thieves were caught red-handed while illegally digging for ancient coins at the Hukuk archaeological site in northern Israel, aided by a metal detector.
The trio were caught by archaeologists from the Antiquities Authority (IAA) Theft Prevention Unit, alongside Jewish National Fund and Border Police representatives. They had been under surveillance from the moment they arrived on the site. The officials caught two of the thieves, both in their 40s from the Druze village of Sajur, some were caught at the site while the third escaped. The IAA said that the two had ancient coins in their pockets, and that several pits were dug into the site's surface, damaging archaeological strata permanently.
The three robbers were under surveillance from the minute they arrived on the site, and two were apprehended at the scene while the third fled. Both of the detained men are in their 40s and residents of the Druze village of Sajur, some 15km (10 miles) from Hukuk. The IAA said that the two had ancient coins in their pockets, and that several pits had been dug into the site's surface, permanently damaging the archaeological strata.
The suspects were taken to Tiberias police station for further questioning.
The Hukuk archeological site, near the Sea of Galilee, is recognized being the site of the biblical city of Hukuk, mentioned in the Talmud as a place were Jewish sages used to study during the first centuries of the Common Era. Archeologists have been studying the site since the 19th century, and since 2011 it has been excavated by archeologists from the University of North Carolina, assisted by the IAA and the Tel Aviv University.
A 5th century synagogue has been found in Hukuk, in a building style found in the Galilee that was also uncovered in nearby Capernaum—a Byzantine village known from the New Testament as the place where Jesus and his disciples taught during the 1st century.
Nir Distfeld, an IAA inspector for the north, said that the Hukuk site is regularly inspected by the IAA, and that "a quick response prevented the robbers from damaging the marvelous finds at this site."
"Antiquities thieves damage everybody's heritage. Taking these ancient coins out of their original context means we lose pieces of the historical puzzle for good. The IAA invests many resources in preventing theft and creating deterrence measures. Illegal excavations are punishable by up to five years in prison," Distfeld said.
Antiquities theft is not uncommon in Israel, with its multitude of archeological sites. In October, two robbers damaged the biblical site of Dovrat in the Lower Galilee, and were caught by the Israel Antiquities Authority's Unit for the Prevention of Antiquities Theft.