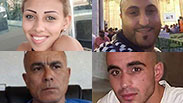 Murder victims in Arab sector in 2018
The Arab population has recently seen a sharp spike in murder cases, with 17 Arab citizens, among them four women, being slain over the five weeks. Since 2018, 72 people have been murdered in the Arab sector, with one person slain every five days. In recent weeks, however, the violence has run rampant, with one person killed every two days.

Public Security Minister Gilad Erdan said the incoming police commissioner would be tasked with reducing crime rates in the Arab sector. A new police commissioner, however, has yet to be appointed.

At the end of December, 43-year-old Muhi Nasrallah was shot dead in Qalansawe, in the so-called "Arab triangle" in central Israel. He was killed just two days after his mother had passed away.

"It was our last day in the mourners' tent after our mother died," Nasrallah's brother said. "After my brother left the tent we called him and he didn't pick up. Shortly afterwards we received calls saying he had been shot dead," he said.

"Nobody threatened Muhi, and we don't know why he was murdered. I hope the police catch those who did it, and won't belittle the murder, like they do with many murder cases in Qalansawe and in the Arab society," he said. "Our lives are in danger, and I don't know who will be next. We constantly hear shotguns sounds and grenades exploding, and wonder how long this is going to last."

The women murdered in 2018 included Yara Ayub, 16, from Jish, a village in the Upper Galilee; Iman Ahmed Awad, 25, whose husband is suspected of stabbing her to death in their home in Acre; Shadia Moussati, 29, who was shot dead near her house in Ramle and Amena Asbarga, 37, from Lod, who was murdered with her husband still in their vehicle.

Aside from Moussati, three other people from Ramle were murdered—Hakam Abu Ghanem, 38, who was shot dead in Holon; Abado Shamshum, 25, who was killed while at his family business; and Ali al-Aasem, who was fatally wounded by a stray bullet in Lod.

In addition, three Jaljulia residents have been in the same time frame: Hudeifa Hariri, 21, and his brother Kuakaa, 32, who were shot dead in shootout at Megiddo Junction, and Ahmed Salameh, 51, who was shot while at the entrace to his home.

Fourteen-year-old teen Kerem al-Ja'ar was also shot dead by a stray bullet during an altercation in Rahat. He saved the lives of five people by donating his organs.

Fahd al-Qasasi, 21, was also murdered in Rahat.

In response to the rising bloodshed, Abed Mahamim from Umm al-Fahm said that the situation had become so bad that people were afraid to leave the house.

"We are sick of this violence. I don't feel safe and I'm afraid sending my children to school and to the grocery store alone," he said. "Many of the victims were not involved in any conflict. Unfortunately, every step taken to eradicate the phenomenon has been of no use. The demonstrations, marches and strikes have not stopped the violence, which only keeps spiraling."

An unnamed young girl from Lod added: "Recently I feel terrified. I refuse to walk the streets, fearing I might be hurt. The atmosphere is terrifying, and even when I go to school I keep looking over my shoulder, thinking someone might start firing with no reason."

The police issued a statement saying they were making every effort to contain the violence, including rounding up weapons, increasing police numbers and making arrests.

"Regrettably, shooting incidents occur too often in the Arab sector, most of which against a backdrop of internal conflict that lead to violence," the statement said.

"Shootings and murder investigations are conducted by the police in a through and professional manner, while striving to uncover the truth and bring the perpetrators to justice, regardless of their and the victim's origins.

"Over the past few years, the police seized an unprecedented number of weapons, in particular in the Arab sector. As part of this ongoing battle, 3,300 suspects were arrested since the beginning of 2018, and some 1,250 indictments were filed for possession, trade and use of weapons, most of which after an intensified intelligence activity of the police."

The police also called on the local leadership to help crack down on the perpetrators of violence.

"In recent years, the police in cooperation with the Public Security Ministry, have been implementing a multi-year plan to expand police activity in the Arab sector, while catering to the unique needs of the Arab society, investing tremendous resources in reducing crime and increasing the sense of security and trust in the police and the rule of law.

"It is important to stress that the police operate within the boundaries of the law, and are unable to completely eradicate the unacceptable norm of using and owning guns without the cooperation of the Arab sector leadership and the law-abiding citizens in the Arab society.

"The police will continue investing efforts to battle the violence within the Arab society and despite the many difficulties, will cooperate with Arab leadership officials, who are willing to act to eradicate this violence," the police said.