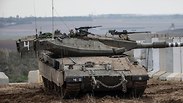 IDF tank on the Gaza border
Photo: AP
Israel saw an astronomical rise in the number of projectiles fired at its southern communities in 2018, with a staggering 28 times more attacks launched from the Gaza Strip than in 2017.

According to the summary of the year released Monday by the Israel Defense Forces, there has however been a reduction in terrorist attacks and subsequently in the number of Israeli fatalities, along with intensified military activity in the Gaza Strip.

According to the IDF, 16 Israelis were killed in attacks in 2018 — nine civilians and seven members of the security forces. This is a fall from previous years, with 20 Israelis killed such attacks in 2017, 17 in 2016 and 28 in 2015. Even so, 199 Israelis were wounded in attacks in 2018, as opposed to 169 in 2017.

The military said that the number of attacks in the West Bank also decreased in 2018, with 87 attacks being carried out this year, in comparison to 97 in 2017, 169 in 2016 and 219 in 2015.

The data also shows a dramatic reduction in the number of incidents in which Palestinians hurled stones in the West Bank. In 2018, 2,057 stone-throwing incidents took place, less than half than the number of similar incidents in 2017, which stood at 5,082. A slight increase was registered in the number of incidents in which Molotov cocktails were thrown in the West Bank—893 incidents as opposed to 848 in 2017.




As part of the IDF's activity in the territories to counter violence, 3,173 Palestinian suspects were arrested in 2018, down from the 3,627 Palestinians detained in 2017. In addition, 406 weapons were seized in 2018 in the West Bank, while 475 firearms were confiscated last year.

Furthermore, during 2018, the security forces confiscated more than NIS 2 million, which it says was earmarked for terror activity.




In ther Gaza Strip, the relative calm that prevailed since the end of the 2014 war was shattered by the "March of Return" campaign that was launched on March 1, 2018, against a backdrop of humanitarian distress in the coastal enclave.

Some 1,000 rockets and mortar shells were fired at Israel, with about 250 of them intercepted by the Iron Dome system, while 45 landed in built-up areas.

Last week alone, 35 projectiles were launched at Israel from the Strip.

The report also says that the IDF carried out some 865 strikes on Gaza in 2018, and destroyed 15 terror tunnels, including a tunnel used by Nukhba, Hamas' elite naval commandos, which was secretly dug under the sea.

Ther IDF also constructed a 27km subterranean barrier to counter the tunnels from Gaza, while five attack tunnels built by Hezbollah were located and neutralized on the Israel-Lebanon border as part of Operation Northern Shield launched on December 4.

On the Syrian front, the Israeli Air Force carried out some 2,000 sorties by combat jets, more than 600 sorties involving combat helicopters, and more than 2,300 sorties using transport, intelligence, and observation aircraft, as well as Super Hercules transport jets.

In 2018, the Air Force UAV array logged 32,166 flight hours and trained with some 15 foreign air forces. The Israeli Air Force's longest flight in 2018 was to Alaska for training purposes.

In addition, the Israeli Navy's submarines logged 6,238 training and operational activity hours. Meanwhile, the navy's missile boats logged 12,541 sailing hours. As part of the navy's routine security measures, 75,254 sailing hours were recorded along Gaza's shorelines, Lebanon and the Red Sea. France's Toulon seaport was the navy's farthest training location in 2018.

Four division exercises, nine division headquarters drills and 60 brigade and brigade headquarters exercises took place during the course of 2018, according to the data on ground force activity. The army also created 301 company commandersm, while the IDF armored vehicles in regular service units were 90 percent ready for action.

The State Comptroller and IDF Ombudsman's reports indicate that the preparedness levels for armored vehicles in the reserve units was substantially lower than in the regular service units, although the IDF did not release this data.

Meanwhile, 674 children were born to enlisted soldiers, which makes one percent of all enlisted IDF soldiers parents, while 12 percent of troops are combat soldiers.

In addition, data shows a reduction in the number of IDF soldiers who were imprisoned in 2018 compared with 2017. A total of 13,580 troops spent time in prison this year, as opposed to 15,687 troops in 2017.