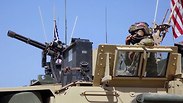 U.S. troops in Syria
Photo: AP
U.S. President Donald Trump agreed to a request from Prime Minister Benjamin Netanyahu to withdraw American troops gradually from Syria, a senior Israeli official said Monday.
The unnamed official told reporters accompanying Netanyahu on his current trip to Brazil that the prime minister had been briefed on the withdrawal of US troops from Syria and had spoken with Trump. Netanyahu is in Brazil for Brazilian President-elect Jair Bolsonaro's inauguration.
"The prime minister thinks that the US withdrawal from Syria presents an opportunity," the official said. "So far, the Iranian presence on the ground (in Syria) has not changed since the American decision."
Trump said during a surprise Christmas Day visit to Iraq that he was confident that the American withdrawal from Syria would not endanger Israel. "I told Bibi, you know we give Israel $4.5 billion a year. And they are doing very well at defending themselves," Trump said.
"We are going to take great care of Israel. Israel is going to be good. We give Israel 4.5 billion a year. And we give frankly a lot more than that if you look at the books. They've been doing a good job," he said.
Netanyahu will meet with U.S. Secretary of State Mike Pompeo on Tuesday, during Bolsonaro's inauguration. On Sunday, following his return to Israel, the prime minister will meet with American National Security Advisor John Bolton, who will visit Jerusalem and Ankara to discuss U.S. policies on the Middle East.
Republican Senator Lindsey Graham said Sunday that Trump had ordered a slowdown to the withdrawal from Syria, saying that "we're slowing things down in a smart way."
Trump announced earlier this month that he was ordering the withdrawal of all the roughly 2,000 troops from war-torn Syria, with aides expecting it to take place swiftly. The president had declared victory over the Islamic State group in Syria, though pockets of fighting remain. Critics say that there are up to 30,000 IS fighters still in Syria, and while they have been routinely defeated and driven out of their strongholds, an American withdrawal could facilitate a resurgence. Critics also contended that the U.S. withdrawal would embolden Iran and Russia, which have supported the government of Syrian President Bashar Assad.