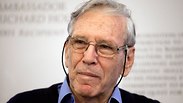 Hundreds of people gathered Monday to bid a final farewell to renowned Israeli author Amos Oz at a memorial service in Tel Aviv.

Oz, a leading figure in Israel's peace movement, passed away on Friday at the age of 79, after a battle with cancer. His death elicited an outpouring of emotion from across the political spectrum for the man considered to be one of Israel's greatest writers.

"He charmed the darkness to produce love," said his daughter Fania Oz-Salzberger at the funeral ceremony, which was conducted mostly with songs and poetry instead of lengthy eulogies.

Oz was revered by Israel's dovish left wing as an eloquent and outspoken advocate of peace with the Palestinians.

President Reuven Rivlin, as well as leading left-wing politicians, stage actors and other cultural figures attended Monday's service. Palestinian President Mahmoud Abbas sent a message expressing condolences.

Earlier, a ceremony was held at the Tzavta Theatre in Tel Aviv, where Rivlin, a staunch right-winger and former Likud lawmaker, was the first to eulogize the celebrated author. "I still do not know what to say. Two days have passed and I still do not whether to talk about who Amos was to me or of the Amos of us all." He told of the appreciation and love he felt towards Oz, who was a childhood friend.

"One day, while reading A Tale of Love and Darkness (Oz's 2002 memoir) in the Knesset, (late Meretz MK) Yossi Sarid looked over my shoulder and said: 'I see that you are reading the Jewish Dostoyevsky.' I responded: I am not reading Dostoyevsky, I am reading myself. I see myself in the text… When Amos writes about love and darkness he is writing about me; because I too am Amos, like each and every one of your readers."

Rivlin also praised Oz for his fearlessness in expressing his political views, despite them being in the minority. "You were not afraid that they would call you a traitor, you saw it as a badge of honor."

Oz's grandsons Din and Nadav also eulogized their grandfather at the ceremony: "You were viewed by many as a seeker of peace, but for us you were full of warmth, humor and delight; you exuded an air of calm. You always knew how to tell an interesting story in order to teach a lesson and you knew how to crack the tension with an old joke."

The two also referenced the antagonism Oz elicited, telling how he would check every morning to see if his tires were ruptured. They reminded the audience of the negative eulogies, the hate posted on the internet and how he was called a mole and a traitor.

"During one of our final talks, you looked into my eyes and with tears you said that you are leaving us a world a lot less good than you had hoped," they said. "Dear beloved and smart grandfather, your legacy — the fight against extremism, racism and violence — we will carry on. Your voice will continue resonating amongst your loved ones, your readers and your haters… Together we will create a better world."

"Amos felt a deep involvement in the fate of Israel and believed that he had a personal mission and commitment to defend it," said his friend Prof. Mark Glazerman. "He was a compass and conscience to many. He was uncompromising in all matters relating to human rights and the pursuit of peace and justice. Amos, without you the world will be colder and poorer."

At the end of his speech, Glazerman played a recorded message that Oz had left him on his answering machine last week.

The last to speak was Oz' oldest daughter Fania. "My father passed away on Friday, saints die on Shabbat. I understood that writers have to die on Friday. Because the notice went out just before Shabbat and all throughout the weekend, in Israel and around the world, thousands of people read about Dad and read Dad's books.

"Father said that all of ethics and the Ten Commandments can be condensed into one axiom — do not cause pain. That is all. And if that isn't possible, then try to cause as little pain as possible. He tried to not cause pain his whole life and at times did not succeed. But so many people spoke about how father helped them, provided a patient listening ear and lent a hand. He charmed the darkness to produce love and from amongst the love, he lived his life entangled with love of this land and country."

Fania spoke about her father's hope and yearning for peace and social justice, his desire to see the Hebrew language flourish and for Jewish and Arab culture to grow together. "Dad left us words, they will not die. Thank you, Dad," she said.

Oz wrote dozens of books, including a well-received 2002 memoir, and won numerous literary prizes in a half-century career.

Amos Oz was buried late on Monday at Kibbutz Hulda, the communal farm in central Israel where he lived for many years.

Ran Boker, Yuval Plotkin and Roy Rubinstein contributed to this report.