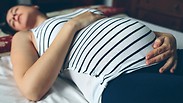 Birthrate declines in Arab and religious Jewish communities
Photo: shutterstock
The birthrate in Arab and ultra-Orthodox Jewish communities in Israel is on the decline, while it is rising in secular communities, according to new data on the country's health and well-being. Furthermore, the fertility rate in Israel is the highest among developed countries.
The data also shows that the relative health of Israel's population is deteriorating, and could worsen unless changes are made in the funding and regulation of the public and private health services. The information was published by Taub Center, a non-partisan socioeconomic research institute that issues an annual study on the state of Israel's health, employment, education, and other areas.
From cradle to grave
Israel's infant mortality rate is one of the lowest in the world, standing at 3.1 babies per 1,000 births. The rate is also low in comparison to countries with similar public health systems, such as Belgium, Germany, Holland, Switzerland and France.
Life expectancy is also relatively high, at an average of 82.5 years. But there are signs that life expectancy in a healthy state may deteriorate in the coming years. While infant mortality rate in Western countries is declining, the rate has stayed the same in Israel since 2013, an indication that the country's health system is not adequately prepared for the future.
Health expenditure
In 2017, Israel's national expenditure on health was only 7.3 percent of GDP (gross domestic product), compared to an average of 8.9 percent in developed countries.
The gap is even greater when compared with other countries that provide a national health insurance. In these countries, the health expenditure stands at 11 percent of the GDP.
In addition, since 1995, the mental health expenditure per capita has tripled in countries with a similar health care system and is 2.5 times higher in developed countries. In Israel, on the other hand, funds allocated to mental health have barely doubled.
Higher salaries
A relatively steep increase in medical costs stems mainly from the public-private mix that is Israel's health system and its effect on physicians' salaries. Doctors' wages rose by about 42 percent between 2011 and 2017, a high increase compared to the 15-percent rise in salaries for employees from other sectors.
This increase in physicians' salaries is unusual also in comparison with countries around the globe. The gap could be explained by the fact that doctors working in the public health system can refer patients to treatment in the private system, which is usually paid by supplemental insurance. As a result, doctors charge for private treatments while they should and can, at least in part, perform these procedures in the public health system.
DOES THIS MEAN DOCTORS WORK BOTH IN PUBLIC AND PRIVATE SYSTEMS, AND CAN REFER PATIENTS TO THEMSELVES AS PRIVATE DOCS OR JUST TO OTHERS?
Additionally, since their salaries are higher in the private sector, doctors limit their work in the public health system.
Fertility in Israel
An increase in fertility rate is also unusual in comparison to other developed countries. The overall fertility rate is almost identical among Jewish and Arab women, but there are significant differences. Arab women, for example, give birth for the first time at an average age that is four years younger than their Jewish counterparts.
In 2016, the average age at which women gave birth to a first child was 28.6 years for Jewish women, 28.5 for Christian women, 25 for Druze women, and 23.8 for Muslim women.
In most population groups in Israel, the higher the level of education, the lower the fertility rate. However, the situation is different in two sectors. First, educated non-ultra-Orthodox Jewish men have the same number of children as those with low levels of education.
Second, although educated ultra-Orthodox women give birth relatively late in life, by the end of their thirties, their fertility rate rises and is similar to that of Haredi women with low levels of education.