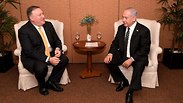 Netanyahu and Pompeo
Photo: GPO
Israel got "almost everything it asked for" when U.S. Secretary of State Mike Pompeo granted "seven out of eight" requests made by Prime Minister Benjamin Netanyahu during their meeting in Brasília on Tuesday, according to a senior source in Jerusalem.

The prime minister told the press ahead of the meeting—held in Brazil's capital after the inauguration of the country's new president, Jair Bolsonaro—the main topics of discussion was to be with the withdrawal of U.S. troops from Syria and Iranian attempts to establish a military presence in the war-torn country.

The source added that Netanyahu came out of the meeting with Pompeo feeling that Israel has the ability to influence certain aspects of U.S. policy, and the two countries are now working on plans to make the American troop pull-out as non-disruptive for Israeli security as possible.

The only issue which the secretary of state did not sign off on is the sale of Israel's F-16 fighter jets to Croatia, which is said to have irritated the Trump administration due to Israel's decision to add its own native technology to the aging aircrafts.

Netanyahu also met with Honduran President Juan Orlando Hernandez in Brazilt, who according to the source promised to follow in Donald Trump's footsteps and relocate the country's Israel embassy from Tel Aviv to Jerusalem in the coming months. The Central American state is reportedly looking for ways to better its relations with the Trump administration, and sees improving diplomatic ties with Israel as a step to achieve that goal.

"Israel wants to help South American countries to solve some of their financial and security problems," the source said.

In addition, the prime minister also held a meeting with Hungarian Prime Minister Viktor Orban, who informed Netanyahu that Hungary is currently promoting a new program regarding the country's Holocaust Museum.