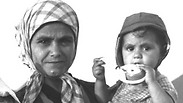 The abduction affair of the children of Yemen, the Middle East and the Balkan
Photo: David Eldan
Where are the abducted Yemenite children?
In the first years of the State of Israel, young Jewish migrants from Yemen had their children taken away and were told they had died. Seventy years on, no one really knows what happened to them and the grieving families who still live with the burden are demanding to know the truth. What happened to their children?
The last time Shoshana Nahshon saw her son, he was sound asleep. The next day he disappeared, as did the next baby she gave birth to. Salma Ozeri was able to save one son out of two. Riki Avivi Hindi, Rami Hukayma and Havatzelet Asmi never got to meet their older siblings. They only knew the pain of their disappearance. Now, Yemenite families whose children disappeared are suing the State of Israel for reparations and fighting to get their tragedy acknowledged, with the hope it might shed some light on the mystery they have had to live with for their entire lives.

Despite years of denial, the tragedy of the Yemenite children refuses to die. The stories that the families have been telling for decades have started to come to life with the chilling revelations about how the state acted. What really happened to the young children of Yemenite Jews who arrived in Israel in the first years of the state? How many children vanished? Where did they go?

Three investigative committees over the years have already looked into the abductions of the Yemenite children. But none delivered conclusive statements and all were heavily criticized for accepting evidence that the children had died without further questions. It was later discovered that many documents were either destroyed or never made their way to court.

The 2001 report from the Kedmi Commission, set up in 1995 by late prime minister Yitzhak Rabin, did make some progress: It determined that, "69 children out of 800 are surely not deceased, and their fate is unknown. These babies were given by their parents to hospitals or children's facilities and never returned. Some were taken by official representatives in order to receive medical treatments or be hospitalized and also never returned." This is almost a confession when coming from the state, whose official position was that nothing ever happened.

But the committee's final remark says it all: "This committee is sorry for the families' loss."

Lawyers who represent the families in their lawsuit against the state and the Jewish Agency (which operated some of the immigration facilities and process) said that this is the first time the families have demanded answers, acknowledgment of what happened and reparations.

"These children were under the establishment's care, and it was determined (by the committee) that they were simply lost," said one of the lawyers. "An advanced country would voluntarily pay reparations, instead of forcing them to sue. As is usual in such cases, the families aren't suing for a specific sum but will leave it to the courts. We expect millions of shekels to be distributed among the families whose children disappeared."

The State Prosecutor's Office said the lawsuit has not yet been filed and they therefore cannot comment at this stage.
'I didn't even have time to name him'
Shoshana Nahshon, aged 89 from Kfar Saba, lost her son Salem and a second baby who she didn't even have time to name.
"We were a part of the last wave of Yemenites to arrive. There was already a rumour going around the transit camp that children were being taken away, but we had just arrived so we didn't know about it. Salem was my eldest and I was pregnant for the second time when we arrived, and my husband held him when we got off the plane so I wouldn't have to carry him. We were brought to the camp and were given a tent, and I fell asleep."
"When I got up in the morning Salem wasn't there. I started screaming 'where's the boy? Where's the boy?' and my husband said he was sick. 'Go to the hospital, you'll see him there,' he said, and I told him 'What hospital? The boy is healthy!'
Shoshana went to the hospital, a small building situated outside of the camp near Beit Shemesh. She could see him through the screen door, surrounded by other children, and was happy to see he was calm. "We did good to come here," I thought to myself. "They take care of children here." Shoshana decided to let him sleep and return the next day.
"The next day I got there and looked through the screen door, and saw that where the children had been there was a desk piled up with papers. When I asked where the children were, the guard told me 'maybe your kid went to the tents.' Today I think he knew the truth. I walked around and around and couldn't find my child."
The next day, Shoshana went to the nurses and asked where the children were. They didn't answer and one whispered to her to "go sit by the hospital door and say 'I want my son'. If anyone asks you, say that."
"I did exactly that and asked anyone who I spoke to there 'where's my child?' At some point the guard led me to a room and said, 'Lady, sign this.' I told him 'I can't even read and write, where's my child?' but he grabbed my arm and forced me to sign. I thought he was going to break my arm. Then I asked where's the child and he said 'dead.' I said 'what do you mean dead? He's healthy, why dead? But I got no answer."
"After several weeks I gave birth to my second son in a hospital in Hadera," said Shoshana. "After four days they told me he had died. I saw him when he was born and he was okay, what can I say? I had a lot of milk and the nurse insulted me and said 'look at you, you're like a cow.' Then they gave me two shots in each breast and I didn't have any milk afterwards (when Shoshana gave birth to her four other children).
"I spoke of Salem all these years. I really remember him. How he used to sit at his grandfather's store and chat to him. He was a beautiful child. In Yemen, my mother-in-law sewed him an outfit called a gamis, so that people wouldn't see his face and give him the evil eye. The second child I hardly had time to hold."
Shoshana said that the entire family was affected by the affair. "My father-in-law died at 65 from the trauma. I had many miscarriages from the grief. I wandered all over the country, wherever mothers whose children were kidnapped convened. We went everywhere. 'They took two.' 'They took three.' There were others like me and whenever I told my story others would tell theirs."
Shoshana's appearance before the Kedmi committee was fruitless. They found a death certificate for Salem saying he died of pneumonia, but found nothing about the other baby. "Why would they find anything? He's not dead. I believed in the Jews with all my heart and they stole two children from me. Money won't bring them back. My dream is to meet my children, and to tell Salem I never abandoned him. That I did everything to find him," Shoshana said.
'My father went looking for my sister's body'
Riki tells a similar story. "My parents got here in November 1949 with two daughters and my father's daughter from his previous marriage. I was 10 months old and my sister Su'ud was two. We were housed in a transit camp and my dad was sent to work on Kibbutz Degania, and then moved to a moshav in the Negev."
"I was a curious kid and I remember listening to the adults speaking. My dad said 'people don't lie in Israel,' and my mom answered, 'yes they do, they took my girl, they took my girl,' and I couldn't understand who. Did they take me and give me back? It took me years to understand that I had a sister and she had been kidnapped."
"When I was five, my mother shared the story with me for the first time," Riki said. "She said 'I wish they would give me back my girl. I had a girl and they took her, they said she was dead but I don't believe them.' She said her name was Su'ud, meaning joy."
"I'll never forget how one day, when I was already in school, my mother joined us for a school trip to Jerusalem…. She saw a woman with a child in the street and decided this was Su'ud, because she looked like me, and wanted to go to the woman and ask her why she was fair skinned and the girl was dark. I was terrified, grabbed her by the dress and said 'you're not going anywhere, you're embarrassing me.' It never ended. I would come home and she would say she'd seen a girl, then a teen, then a woman who looked like me. It's like I was followed by a shadow at all times."
The story was all too similar: social workers came to the transit camp and took Su'ud for a supposed check-up. Her family visited daily and one day, when her father came she was gone. "She's in the hospital in Hadera," he was told. When he got there they refused to take her to him and one day they said she had died.
"My father said 'give me her body' but was told she wasn't there. That poor man went to all the neighboring hospitals to see if they had Su'ud's body. I think he repressed his pain, but my mother never forgot and when the stories emerged years later she said, 'see? I wasn't wrong.'
Riki said her mother blamed herself and was restless for as long as she lived. "She told me she used to hide me under the bed whenever anyone wearing a white coat came near…. She told me before she died in 2010, 'if I never get to see my girl, look for her,' and I did for some very intensive years."
Two years ago, Riki and the family were able to find archival materials indicating Su'ud's ID number and other records. "We could see that she exists, it's not just stories my parents told us. Later, the Interior Ministry told us she ceased to be an Israeli resident in July 1963."
Riki said the lawsuit is about recognition, "I'm not jealous of Holocaust survivors, but they got recognition. I want people to know how our country was silent, so that it can grow from that (confession)."
'Who will say Kaddish for me?'
Shoshana Gavra is 89 years old. "When we got here I was pregnant, I was a kid with a pregnant belly, about to give birth. We were sent to the transit camp and I remember this woman, a nurse, hovering around me saying 'when will you give birth? When?' Everyone warned me to stay away from this woman. My aunt helped me give birth, that's how we used to do it then. It was a Thursday and I breastfed the boy until Monday. That day my husband went to Jerusalem. Then that woman came to me, I don't know what she did but I felt dizzy, she must have given me some kind of pill. I was taken to the hospital and she took the boy and left, saying she was taking him for a check up. I never saw him again. He was my first born."
"Years later," Shoshana said, "I met that woman at a vegetable stall in Petah Tikva. I said to her, 'weren't you there at that camp?' I was half way through the sentence when she ran away. How did she know what I wanted to ask her?"
"My boy was like a doll. I breast fed him and he was healthy, I'm one thousand percent sure he's still alive. Someone told me he was sold for pennies," Shoshana said. "Ever since then, the house has been full of tears, I gave birth to two other daughters but when I was 25 my husband died… I used to cry at nights, standing by the sink, when the girls were asleep."
"What they did to us is no less of a crime than the Holocaust. Today my boy should have been 70 plus, and I feel he's alive and kicking. He was healthy, we didn't even have time to name him. The Yemenites were so naive. I don't have a son, who will say a Kaddish prayer when I die?"
'We opened the grave and it was empty'
Rami's parents arrived in Israel in 1949 with three children, and Na'ama was the youngest. They were sent to a transit camp, where they were told that Na'ama looked sick. She was taken away for a check-up in a nearby hospital. Later, the family was told that the girl was sent back to the camp, but she never made it there. They looked everywhere.
"My dad went to the police and was even interviewed in Yedioth Ahronoth, but back then it wasn't custom to speak publically about this… One day, he overheard two Yemenites talking during a bus ride and that's when he understood that he wasn't the only one," Rami said.
"My parents had two other children after the kidnapping — my brother and myself. There wasn't a day that went by that this wasn't discussed at home. We always had a feeling that the tale we were told wasn't the truth. One day we got a letter with a death certificate, saying Na'ama was buried in Petah Tikva. My father and I went there together and he physically dug and found nothing. There was nothing there."
One of the committees later stated that a mistake had been made, and that it wasn't Na'ama who died, but a different girl.
.
"My dad died at 60 from an accident and my mom lived to be 100. She died seven months ago and was one of the last surviving mothers of the kidnapped children. She wouldn't stop talking about it until the day she died… She always said, 'if you find your sister, make sure she gets her share of the inheritance.'
"There's one event I can't get out of my head," Rami said. "I'm a singer, and I often get to perform in America in front of Jewish communities. During one show I saw a woman who was the spitting image of my sister. Something felt odd, since the crowd was fair-skinned and Yiddish speaking. I looked at her and she looked at me, but she was religious and I couldn't approach her. I told myself, 'man, I have to speak to her parents and ask them about it!' I made a mistake and didn't approach her and I'm sorry about it to this day, because a few years later people started saying that many of the children were sent to the U.S., to religious families, and that's when it all came together."
'I'll know him when I see him'
Havatzelet's parents also came to Israel in 1949. "They had one boy, Menachem, and another girl who died on the way to Israel. My mom was pregnant. They got to the transit camp and my mother later gave birth to Zion in the hospital. It was March 1950 and it was cold and snowy. She came back to the tent with him but shortly after he was taken away for an 'examination' and he disappeared. She said he was literally snatched from her arms."
Havatzelet was the first girl after four boys, all born after Zion had disappeared. "I remember my mom fighting like a lioness all her life, looking everywhere and going to every possible committee… approaching different officials. But she never got any answers."
"I accompanied her to the committees and I heard all the other similar stories of those poor people. I'll never forget them and I'll never forget the judge, who took a nap right in front of their faces," Havatzelet said.
"My mom never stopped feeling sad about Zion… The most difficult thing I heard her say, from back when I was young until she passed away at 91, was 'I'm so sorry that I didn't do what those other parents did, who were stubborn and went to throw stones (in protest), some got their children back!'"
Havatzelet's mother was never the same. "She would always look for children who looked like Zion... We used to joke that we're five brothers and sisters who all look so different, how could we know who to look for? But my mother said she'd know him (when she saw him). She believed he was alive until the day she died. 'I just want to see him and tell him that I'm his biological mother and give him a kiss,' she used to say."
Havatzelet said, as did the other families, that most of all she wants recognition. "We're children of Yemenite Holocaust survivors. Like the second generation (Ashkenazi children of Holocaust victims). We had our personal Holocaust: the sadness at home and our mothers crying, the feeling that there's someone missing at the table… We demand that the state finally tells the truth, and if reparations are in order then the state should pay them… Today more people believe us when we tell the stories, they understand we weren't 'hallucinating'."
'I cry for him to this day'
Salma arrived in 1949 like the others. "I got married very young, only 12 or 13, and became a mother right away. When we came to Israel I had a two-year-old and I was nine months pregnant. We were put in a transit camp and I gave birth to Ben Ami less than a week later. They put me in a large room in a Hadera hospital full of newly arrived immigrants and a nurse that came by took Ben Ami and wouldn't give him back. No one believed me that he was mine because I was still a girl. I cried and said 'this is my boy, why did you kidnap him?' I was firm about it and then they had a trial and he was given back to me. It happened to everyone at that camp, there wasn't a tent without tears over a kidnapped child."
"I remember someone crying and screaming and breaking doors down. She was told 'get out of here! There's no baby girl, she died.'
In November 1950 Salma was pregnant again. "After the birth they gave me the child and I breast fed him for a week. He was big and pretty and we called him Avraham. Then they told me, 'there's wind and rain in the tent, he'll catch a cold. Go home and come by every day to see him.' I went to breast feed him three times a week for two months, and then they said 'don't come so often, once a week is enough.'
"One day I had enough and I told them I wanted to take him home, he weighed six kilos by then. Then, the next time I came they said he got sick and died. I told them to let me see him so we could mourn, but they said 'no, we buried him already.' I went and told my husband and he went over and asked for the body and they said the same thing. He came back and said 'there's nothing to be done. The boy is gone.' We sat Shiva without knowing if he was really dead. I cry for him to this day. Later we had another son and we named him Avraham after him."
"It wasn't easy being pregnant back then. I worked the fields; there was hunger, rain, tents. So what, they saw a 15 year old getting pregnant year after year and wanted to take all my children?"
It's not justice that Salma seeks, just some kind of closure. "I heard that some of the Yemenite children were sent to the U.S. Why are they torturing us like this? If he's part of a good family we're not going to want him to leave them. I just want to hold him. Maybe this lawsuit will reveal where our children are. Maybe the state will come to me asking for forgiveness. It's not so difficult to come and say sorry for an institutional crime. Social workers and political parties, they should all come and say they're sorry."