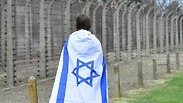 מצעד החיים מחנה אושוויץ ישראל יום השואה 2018 פולין
Photo: Yossi Zeliger
The number of Israelis who visited the Auschwitz-Birkenau Concentration Camp memorial museum in Poland dropped 21% in 2018 compared to the previous year —65,000 versus 83,000. The data was presented by the museum directorate and comes on the heels of the controversial Holocaust Law which caused tensions between Israel and Poland.

Israeli tourism to Poland actually increased over the same period —250,000 in 2018 compared to 139,000 in 2017. The Auschwitz museum stressed that the decrease was among individual visitors and not organized tour groups.

Auschwitz saw a record amount of visitors overall last year, with more than two million people visiting the site in 2018.

"Such a high rate of people choosing to learn about the history of Auschwitz in organized groups is of great importance. (The visit) not only provides in-depth knowledge and understanding, but also allows visitors to engage in dialogue and ask questions on a variety of issues related to this tragic period," said museum Director Dr. Piotr Cywiński. "No printed form or electronic equipment can replace human interaction during the visit, which is exhausting both emotionally and in terms of the amount of information."

The Polish Holocaust Law, which stirred a global outcry, declared that anyone who claims that Poland as a state or the Polish nation is responsible for the crimes committed by the Nazis commits a felony and faces up to three years imprisonment. In light of the legislation, Polish-Israeli relations hit a low point. Pressure applied by the United States and other countries served to soften the wording of the law and it was amended to remove the felony clause.

The countries with the most visitors to the site are Poland (405,000 visitors annually), Britain (281,000), the US (136,000), Italy (116,000), Spain (95,000), German (76,000), France (69,000), Israel (65,000), the Czech Republic (45,000), and Sweden (42,000).

In 2018, visitors from Portugal increased by 36%, while visitors from China and Poland both decreased by about 20%.