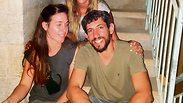 Ayelet Dikshtein and Avigdor Gavish
Photo: Yedioth Ahronoth
This is a story of bereavement, shared destiny and the triumph of life over death. This is the story of Ayelet Dikshtein and Avigdor Gavish, who experienced awful tragedy, but decided to move on, refusing to succumb to the pain, and who found each other.

Ayelet and Avigdor—both of whom lost their parents and siblings in separate shooting attacks in 2002—this month held their engagement celebration, an occasion of joy mixed with sadness. The celebration took place at the home of Avigdor's brother, in the West Bank settlement of Elkana.

Terror struck Avigdor's family in 2002, during the Second Intifada, when he was a 19-year-old recruit in the Israel Defense Forces. During the Jewish festival of Passover, and a day after the infamous massacre at the Park Hotel in Netanya, a Palestinian terrorist broke into his parents' house in the West Bank settlement of Elon Moreh.

The terrorist opened fire, fatally wounding Avigdor's father, David, who later succumbed to his wounds, and murdering his mother Rachel and her father Yitzhak Kanner on the spot.

The terrorist then shot Avigdor's older brother, Avraham, who was a major in the elite Sayeret Matkal unit.

Avraham told his younger brother to get his rifle from upstairs. Avigdor, who still doing his basic training, calmly followed his brother's orders, while making sure that the rest of his siblings were safe. In the meantime, Avraham also succumbed to his wounds. The terrorist was eventuially shot dead by IDF troops who attended the scene.

Months later, terror also struck Ayelet's family. At the end of 2002, the Dikshtein family were traveling from their home at the Psagot settlement to visit relatives when terrorists opened fire on their car.

Ayelet's nine-year-old brother and her mother Hana were critically wounded in the attack. Her father Yosef exited the vehicle to help his wife and son, and was shot dead. Shortly afterwards, her mother and younger brother died of their injuries. Ayelet, then a teenager, demonstrated resourcefulness under fire, assisting the rest of her brothers who were still in the vehicle.

Despite his personal tragedy, Avigdor continued serving in the elite Maglan unit, becoming a squadron leader and then a deputy company commander.

After concluding his military service, Avigdor began his bachelor's degree in industrial engineering. A couple of years ago, he decided to make a career change and after completing his degree in music, he released an album titled "A New Day," for which he wrote the lyrics, composed the music and performed the vocals.

Ayelet went on to study education at the David Yellin College of Education, dedicated herself to dancing and is a movement therapist.

Avigdor and Ayelet met during one of the meetings organized by the One Family NGO for children who lost their parents to terror, and discovered they share a similar life story. With time, their relationship grew stronger and they become a couple.

On the day of their engagement, Avigdor and Ayelet visited the graves of his parents, brother and grandfather in Elon Moreh and then the resting places of Ayelet's parents and younger brother. Only then they did they call their friends and relatives to say that they were getting married.

Today, Avigdor is working on his second album. "This album is about connections. There are fragile moments during which connections are created. They might be elusive, and by the time they are created, they are gone again. Each song tells of my connection to music, to my father, to my best friend Elhai, who was also killed, and the depths of our souls."