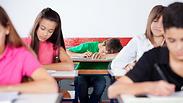 School kids (file photo(
Photo: Shutterstock
Some parents were angry, while others simply raised an eyebrow. When parents picked up the phone and asked local authorities if this was some kind of a political statement, they all got the same answer: We have nothing to do with this list; we got it from the Ministry of Education.

The list in question? A registration form for first graders that includes Judea and Samaria (biblical names for the West Bank), the Golan Heights and Israel as separate countries. It also separates Sinai from Egypt and adds it to something called the Gaza Strit. The Palestinian Authority, however, gets two mentions, both as the Palestine Authority and the Palestinian Authorit. In fact, the the English spelling of many countries leaves a little to be desired, not to mention the inclusion of Yugoslavia, which disappeared at the start of the millennium.




"I was appalled to see in an official document that Judea and Samaria are listed as separate states. We lived in (the West Bank settlement of) Karnei Shomron for a few years. This list is upsetting to me, it is completely improper. You can't mix politics with state matters. My children's ID card says that they were born in Israel, and now I see that Israel was divided into other countries," said one father.

"Judea and Samaria are part of the State of Israel. Presenting this region as a separate state is very disheartening and outrageous. I was very surprised to learn that this is an official registration booklet provided by the Ministry of Education," he added.

Other parents wondered how could the Ministry of Education, which is responsible for our children's schooling, make such mistake. "I expect the Ministry to immediately correct this disgrace," said one mother. "I wasn't aware that the Golan Heights region is a separate state, and that the Gaza Strip has suddenly become an independent state."

"I have no doubt that this was a mistake, a mistake that must be corrected immediately," said Samaria Regional Council head Yossi Dagan.

Following the public outcry, the Ministry of Education claimed "the information was taken from the Population and Immigration Authority; the mistake will be corrected immediately."

Meanwhile, the Population and Immigration Authority has shifted the blame back onto the ministry, saying "information is distributed to various ministries according to their needs. The Ministry of Education verifies and cross-checks the required data. This how all the ministries operate, and so we expect the same from the Ministry of Education."