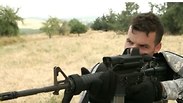 Israel Defense Forces infantry troops are to get a revolutionary "smart" gun sight that will help marksmen find their target with greater accuracy.

The new product, named Dagger, was developed to help IDF troops improve their marksmanship, and gives them the ability to hit moving targets precisely. It allows soldiers to hit a target on the first shot, regardless of their skill as a marksman, and reduces the chances of innocent civilians being hit.

One of the most advanced gun sights in the world, the Dagger has an electro-optic system and a processor that calculates the distance of a target and its movement, the movement of the shooter and the ballistics of the ammunition and the rifle used. It then processes all the information in order to select the optimum moment to shoot.

The sights, which cost of tens of millions of shekels, follow the target and, with the aid of an algorithm and an advanced image processing system, "know" the right moment to pull the trigger. They were produced by the IDF's Administration for the Development of Weapons and Technological Infrastructure (known by its Hebrew acronym Maf'at) and the Smart-Shooter company of Kibbutz Yagur. The Defense Ministry has ordered a first batch of 2,000 of the gunsights.

The Dagger was developed as part of an extensive pilot program with the IDF's Golani, Givati and Paratrooper combat brigades.

"This is the first time that a fighter has been outfitted with a computer that works for him without him having to do much to operate it," says Maj. Yoav of Maf'at. "Recent developments in image processing and the cheapening of technology prices allows us to purchase thousands of gun sights. In the future it will be a framework for improvements such as conveying data from the gun sight to troops in the rear."

"A few years ago two guys came to me with an idea. Ultimately a different, revolutionary product was made," says the major. "We staged a challenging test to hit the target with the first bullet, while in motion. We had two groups — shooting instructors and new recruits. The instructors hit the target and the recruits missed. But then they were given rifles with the Dagger gun sight and all of them, including the inexperienced recruits, hit their targets with an accuracy rate of above 70%. The improvement was dramatic."

In 2010, NATO said it intended to improve a soldier's ability to fire while in motion, and Western militaries that examined the gun sight were impressed by its capabilities. Some bought a small quantity of the Dagger for testing with the intent of purchasing in bulk in the future.