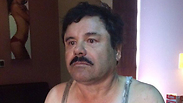 Exclusive: How Mexican drug baron El Chapo was brought down by technology made in Israel
Mexico's war against its cartels always had one prime objective - to capture Joaquín Guzmán Loera, the world's most wanted man and the country's most powerful drug baron. And thanks to a company in Herzliya, with a little help from an unwitting Hollywood actor and telenovella star, it managed to do just that.
It was an arrest operation that made headlines all over the world, not only because of the target, the drug baron El Chapo, considered the most-wanted man in the world (once Osama bin Laden was taken down), but also because of the other unwilling participants – one of Mexico's biggest telenovella stars and American actor Sean Penn. Since then, speculation and stories have surrounded just how the man who managed to escape prison again and again. This weekend, for the first time, we will publish the full story behind the capture of El Chapo, a story that features a phone interception system known as Pegasus, created by the Israeli company NSO.

The story starts in 2011, when the initial development of the Pegasus system was completed.

Pegasus can take full control of a cell phone, including listening in on calls, reading every written communication, using its microphone to eavesdrop on conversations held in its vicinity, and taking photos (but not video) with its camera. It was also able to obtain access to all of the information needed to log into bank accounts, emails and so on without needing to hack into these accounts. The system even allowed control and monitoring of battery use, so the person whose phone was being broken into remained none the wiser of the fact he or she was being stripped of their privacy.

The chairman of the NSO board of directors, Maj. Gen. Avigdor Ben-Gal, and CEOs Omri Lavie and Shalev Hulio set out to demonstrate their product to the first customer. For the first time, sources familiar with the company's history confirm that this customer was Mexico, which was suffering from unbridled organized crime, drug cartels and human trafficking.

The deal worked out very successfully for both sides. A task force set up to combat crime had suddenly grown eyes and ears, and its members excitedly embraced NSO staff when out of nowhere they could see and hear what had always been impenetrable and out of reach, especially when it came to the encrypted BBM text message service on BlackBerrys, the phone of choice for cartel members.

Even the president of Mexico called on Christmas Eve 2011to personally thank NSO. "I couldn't have asked for a better Christmas present. With what you gave us, we can finally eradicate the cartels," he told them.

From day one, it was obvious what the prime objective was in the battle against the Mexican drug cartels – the big boss, Joaquín Archivaldo Guzmán Loera. Better known as El Chapo, he was the head of the world's most powerful drug cartel, and the world's most-wanted man after the death of Osama bin Laden.

El Chapo had already been captured in 1993, but escaped from prison in 2001. Thanks to advance use of the NSO system, along with other measures, the Mexicans managed to locate him in February 2014 in his apartment in Mazatlán, off the coast of the Pacific Ocean. He was caught without a fight and imprisoned again.

While in prison, El Chapo was using hidden phones he had in his possession (some under NSO surveillance) to try to have a Hollywood movie or TV show based on his life. During these phone calls, he asked his lawyers to find him someone from the film or TV industry to take on the task. The lawyers turned to Mexican telenovella star Kate del Castillo, who played a drug baron in a Mexican soap opera.

In July 2015, El Chapo shocked the world when he escaped again, this time through a tunnel dug under the shower in his cell to a small house some two kilometers from the prison.

The escape did not harm El Chapo's desire to immortalize his life onscreen. Pegasus continued to monitor the contacts between his lawyers and del Castillo, and later the special phone the lawyers gave the actress to use solely for text communication with El Chapo. Mexican military intelligence had obtained a device of the same rare type, a phone that was supposed to be impenetrable to hacking, which El Chapo had passed on to her. The device was flown to the NSO laboratory in Herzliya, where the experts created a special interception platform all of its very own.

With the device now at their disposal, the members of the special unit heard in detail the growing romance between El Chapo and del Castillo, and of plans for a meeting between them. At the same time, on her other phone and on the lawyers' phones, they heard del Castillo excitedly state that she had met actor Sean Penn at an event in Los Angeles and recruited him for the project. It is unclear whether Penn's own phone was also under surveillance, but apparently there was no need anyway, because all his conversations and texts with del Castillo and later with El Chapo himself were already being intercepted through their phones.

And so, the net slowly closed around the unwitting drug baron. In late 2015, del Castillo and Penn boarded a private jet that took them to an unknown location, and from there traveled a great distance by land, until they reached their meeting place. Unknown to them, this journey was heavily monitored by Mexican intelligence agents, who watched from afar as El Chapo arrived and embraced del Castillo. The agents decided not to arrest El Chapo at that point, apparently to avoid a shootout. Instead, they followed him for another two months, until on January 8, 2016, Mexican special forces raided one of El Chapo's safe houses in the city of Los Mochis, in northern Sinaloa.

A firefight broke out, and El Chapo fled again but was captured shortly thereafter at a nearby hotel. He was extradited to the United States, where he is now standing trial.

The full story will be published on Friday, as part of an exclusive interview with Shalev Hulio.