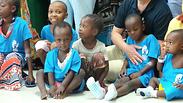 Tanzanian children
Photo: Doron Kooperstein
Israeli-based international non-profit organization Save a Child's Heart is sending a delegation of doctors to the Tanzanian port city of Dar es Salaam this week to perform life-saving medical procedures on local children.
Founded in 1995, doctors from the organization have performed surgery on almost 5,000 children with heart problems from more than 50 countries around the globe, primarily in developing countries. The slogan on the organization's website reads: "We mend hearts, regardless of religion, gender or nationality."
SACH has brought children from places such as Syria, the Palestinian territories, Iraq and Rwanda to Israel to be treated at their headquarters at the Edith Wolfson Medical Center in Holon, just south of Tel Aviv. They have also trained doctors and nurses from many of these countries in pediatric cardiology.
This week, Israeli pediatric cardiologist Dr. Sagi Assa will perform cardiac catheterization procedures on 25 Tanzanian children born with heart defects.

In some cases, these defects may put the young patients in immediate danger, while in other cases, if not treated properly, they could end the young patients' lives well before they reach their twenties.
All catheterizations are performed alongside a local team of doctors which uses the opportunity to learn and experience advanced catheterization techniques.
"Our mission is not to do the work and leave, but to train local doctors to successfully perform these procedures so they could operate on thousands of children in need of treatment," says Dr. Assa.
Joining Dr. Assa are a team of nurses and anesthesiologists from Wolfson Medical Center, two foreign senior cardiologists, and two German nurses who Dr. Assa met during his studies in Berlin.
Ynet will be bringing you more stories from this special mission to Tanzania.