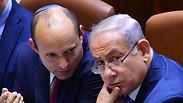 Education Minister Naftali Bennett (L) and Prime Minister Naftali Bennett
Photo: Rafi Kotz
Report: Netanyahu pushed to smear Bennett ahead of 2013 elections
According to Channel 12 News, PM Netanyahu pressured Walla! News website owner Shaul Elovitch to publish a story that Bennett's wife worked as a chef at non-kosher restaurants and that his father attended a demonstration against slain PM Rabin.
On the eve of the 2013 elections, Prime Minister Benjamin Netanyahu on the eve of the 2013 elections planned to use the Walla! News website to smear then-Jewish Home chairman Naftali Bennett by publishing a series of unflattering articles about him and his family, Channel 12 News reported on Monday.

According to the report, Netanyahu's associates asked Shaul Elovitch, who was the majority shareholder of Bezeq telecommunications and owner of the Walla! News site, and Walla! CEO Ilan Yeshua to publish negative coverage of Bennett in order to harm his chances in the 2013 elections.

The report claimed that Netanyahu planned the move down to its last detail. Netanyahu's close associate Ze'ev Rubinstein, a businessman and vice chairman of the Israel Bonds Organization, is said to be the one who mediated between the prime minister and Elovitch.

According to text messages between Yeshua and his boss Shaul Elovitch published by Channel 12, Elovitch wrote to the Walla! CEO five days before the elections, drawing his attention to a Facebook post in which left-wing activist Eldad Yaniv, a fierce opponent of Netanyahu, expressed his support for Bennett. In the post, Yaniv wrote: "If you don't vote for the Left, you should vote for Bennett."

Yeshua allegedly told Elovitch: "It's unreasonable to do it (post a negative article about Bennett) today since it would the third anti-Bennett article published in one day."

In addition, Elovitch and Yeshua allegedly discussed publishing stories that Bennett's wife, Gilat, worked as a chef in a non-kosher restaurant, and that Bennett's father attended a demonstration against slain prime minister Yitzhak Rabin.

It was also reported that on January 18, 2013, Yeshua texted Elovitch about the plan to attack Bennett, saying: "I'll deal with everything else tomorrow. This is super sensitive, and I don't want to ruin it for everyone including them (the Netanyahu family). It must be done gradually and wisely, otherwise everything will blow up in our faces."

Elovitch replied: "I explained (to Netanyahu associate Ze'ev Rubinstein) that it is impossible to publish everything at once because it's dangerous. He understood, but the couple (Benjamin and Sara Netanyahu) are pressuring him.

Yeshua said: "He is working on it." And Elovitch added: "Don't take any chances under any circumstances."

Four days before the elections, the report said, Elovitch told Yeshua that Netanyahu continued to press to get the stories published.

Yeshua reportedly warned Elovitch that if too many stories against Bennett were published at once, it might end badly.

"They are hurting themselves. It's impossible to instantly to change the website like this. We are a second away from a mass resignation of all the managing editors," Yeshua wrote in a message to Elovitch.

"A photo of Netanyahu was up until 11pm (on the Walla! website) , and Bennett's headquarters went berserk at us. They (the Netanyahu family) are receiving an unprecedented tailwind here," Yeshua added, and repeated: "We are a second away from mass resignation of our managing editors."

Bennett said in response to the report that, "Any attempt to hurt my father and the rest of my family is immoral, and must stop."

"My late father, who was a proud rightist, lamented the fact that part of our country were given to (former Palestinian leader Yasser) Arafat, and took part in many protests against that move. I admire him for his bravery. The rest is a complete lie. My father was a loving person, who never harmed anybody. I'm very proud of him and no story will ever change that," Bennett said.

Claiming the report was "false," Netanyahu's ruling Likud party said that during the time in question the prime minister did not hold the communications portfolio, and as such, "The report, despite its many inaccuracies, is an excellent statement of defense."

According to the Likud, the report "proves there is no connection between Elovitch's attempts described by Channel 12 News to influence Bennett's coverage and benefits Prime Minister Benjamin Netanyahu clearly could not have provided him."

Elovitch is at the center of police Case 4000, in which Netanyahu is suspected of taking bribes and acting in a conflict of interest. According to suspicions, Netanyahu promoted regulations worth hundreds of millions of dollars to Bezeq and its then-majority shareholder, Elovitch. In return, the prime minister allegedly received favorable coverage on Walla! News.