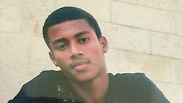 Most people we asked to be interviewed for this story refused to talk. They had a lot to say, but they are also concerned of the public exposure and fear police persecution. Some have lost hope and don't believe that an article in the newspaper can make a difference. After all, there were protests with tear gas, and we heard the cries in the town square. In two days, they say, you will go back to staring at your screens and forget about that young man of Ethiopian descent who was shot in the head by a police officer. A death that likely could have been avoided.

Yehuda Biadga, 24, who was shot to death last Friday, joins a too-long list of young people of Ethiopian descent who were killed under controversial circumstances in incidents involving the police.

Yosef Salmasa has already become a symbol in the Ethiopian community in Israel. The young man, who died in 2014 under circumstances that have not been fully clarified to this day, put a spotlight on the problematic nature of the relationship between the police and the Ethiopian Jews in the country. His 36-year-old sister, Benzi, is one of the most prominent activists in the fight against police violence.

"You can call me a mother who fears for her children's lives," she says. "As long as you are black, you will walk down the street scared. I have girls and not boys, but I'm still scared. Girls from the community also find themselves becoming punching bags. The danger is more common for boys, but this fear for our lives exists for all of us."

"I have to expose my daughters to the Israeli reality, which is not simple. It's true, there are good things in our country. But what isn't good is being quickly swept under the rug," she says. "At our house, we don't have such a rug, and I tell my girls the truth: there's a good chance you won't be liked because of the color of your skin. At the same time, I teach them not to judge others by their color, and not to panic the first them they are cursed at because they're Ethiopian."

Four months before Yosef Salmasa's death, in July 2014, he had an unfortunate encounter with the Israel Police. While he was sitting outside with his friends one evening, Salmasa was attacked by two police officers and hit with a Taser in front of his friends, with the police officers claiming he was a suspect in a break-in. A few hours later, Yosef was found lying on the road outside the Zikhron Ya'akov police station, bruised and dazed.

Later, the charges were changed from suspected break-in to the suspected assault of a police officer, but no indictment was filed against him.

But that wasn't the end of it. Yosef was never the same after the severe violence and humiliation he suffered at the hands of the police officers. His worried family decided to file a complaint with the police's Department for Internal Investigations, which in hindsight turned out to be a grave error.

No one knows what happened from the time Yosef went on a break at the vinery where he worked and until his body was found at the bottom of a cliff at a quarry in Binyamina. How did he die? The Salmasa family is still looking for the answer.

Yehuda Biadga's terrible death reopened the Salmasa family's old wound, which will likely never heal again. "The day Yehuda was killed became a day of mourning for the Ethiopian community," says Benzi. "But not just for them: It needs to be a day of mourning for the entire Israeli society. What surprises me most is that the Israel Police is not drawing any conclusions from any incident. They could've drawn concludes from Yosef's case and put their house in order."

"It's a shame only we, in the Ethiopian community, take Yehuda's case so personally—he should be seen as the son of all of us. This is a problem that affects the entire Israeli society, for we are an inseparable part of it," she says.

"Yehuda's family turned to the police for help, and in return got a body. It's tragic, and it keeps everyone awake at night. It's the cry of an entire community that is being silenced. Even the police commissioner said at the time that it's natural to suspect Ethiopian immigrants, we're the immediate suspects, so why are we surprised every time there's a new death?"

Do you also feel that the protests are not going to help?

"It's sad for me to say this, but I feel persecuted. My emotions have been running really high for four years now. I believed the police would protect me and my family, and today I realize that is not the case. There are similar cases to that of my brother and Yehuda, which were not covered by the media. It doesn't mean it's not happening, and what saddens me most is that it no longer surprises me. The system is rotten, broken, and in need of a thorough cleanup—and yes, this problem affects us all."
The lawyers who disappeared
Reut (not her real name) is the sister of Ilan Tefera Bhatta. Ilan, who was 23 when he died in 1997, had just completed his IDF service and was working as a security guard. He was shot 19 times by police officers who mistook him for a terrorist—all because of an unreliable report from a taxi driver who apparently had an argument with Ilan over the fare.
Three years ago, nearly a year after Yosef Salmasa died, Reut decided to go to war. "I wanted to take the investigative material and examine the evidence in the case myself. As Ilan's sister, I didn't think that would be hard to do. I approached three lawyers over the past three years, and they all disappeared as if the ground had swallowed them whole. We told them in advance that money was not an issue. We were willing to pay whatever it took to get our parents some peace of mind and get the truth out," she says.
"They all acted the same: The first one promised to would help us, took the case, studied it and turned to the police's Department for Internal Investigations. A moment before it got to court, he disappeared. With no explanation, without telling us that he was giving up the case. He simply vanished. When it happened the second time, I was surprised again. When it happened with the third lawyer, I realized something was wrong. Maybe they were being threatened and warned of the consequences of reopening the case. Meanwhile, my parents live with this heartbreak and grief that they will never be able to overcome," she says.
Bhatta's death happened only five years after the family made Aliyah to Israel. "We were kids and we didn't completely understand the meaning of the disaster that had befallen our family. My family remained traumatized, and I'm living with this every day. There are Amharic lamentation songs, and if you visit my parents' home, you can hear my mother humming them all day. It's been 20 years and my parents still hum songs of sorrow every day. In Ethiopia, Jews were told about how much goodness there is in the Land of Israel. But after they got here, their heart was broken and will never mend," she says.
The family, which was airlifted to Israel during Operation Solomon in 1992, has suffered several tragedies: two daughters passed away in Ethiopia—25-year-old Warka and nine-year-old Shimba. Several years after Ilan's death, his younger brother got in trouble with the police, was put under house arrest at his aunt's home, and committed suicide in the middle of the night—never knowing that the court would eventually acquit him.
"When I first heard on the radio about a young man who was shot in Bat Yam, I was sure this was a terrorist, a nationalistically motivated incident," Reut says. "But when I went on Facebook and saw the photos, and saw social media in outrage—I was shocked to learn it was an Ethiopian youth. Every time anew, we realize how trigger-happy (security forces are). When it's terrorists, the rules of engagement are studied to the last detail. What about shooting at the legs? Why was it necessary to shoot Yehuda in the head? And I ask myself, how will this police officer live with the fact he murdered a child, likely an innocent one? And how long is it all going to still be blamed on the fact we're Ethiopians? Why is the color of our skin still a reason?"
Reut's feeling of helplessness has grown stronger in recent years, since her son was born. "Some of the Ethiopian couples don't want to bring children into the world," she says. "It's crazy and sad, but you never know where (danger) can befall you and your child. All of the education and love you give him could be gone in one day because of a police officer's impulsive decision. Who can promise me that my child won't become a victim? Why did the color of my skin become a reason for fear in the country I live and raise my son in? As a mother, I fear for my child. As an Ethiopian woman in Israel, I'm afraid of the police."
'We were turned into creatures without identity'
Five years ago, Avraham Damati got into a fight that escalated and became violent. A phone call from one of the neighbors quickly brought the police to the scene. The neighbor who called the police claimed Avraham was holding a knife and threatening the other people involved. Avraham told the police officers that he wasn't armed, and that he found himself in the center of the fight only because he wanted to defend his younger brother. He was handcuffed, taken to the police station, and was in jail for a month. The police claim he committed suicide while in custody, but the Damati family has been living with doubts for five years now.
"My son hated fights," says Ahuva Damati, Avraham's mother. "There are uncontrolled kids who run amok, but my Avaham was a good boy. He was the kind of boy who came home straight from school, he wouldn't even go wandering around with friends. It was only when he turned 18 that he started going out, until then he was a homebody."
"Over the past five years, I have realized that I don't know anything. I don't know anything because I don't have a lawyer, because the police refused to give me all of the details, because my son made a mistake and paid for it with his life. I don't know anything because I'm invisible, just another Ethiopian in Israel. We were turned into creatures without an identity. Avraham was only 19, he loved life more than anything," she says.
Ahuva made Aliyah in the early 1990s. The utopia she was promised in Ethiopian became a nightmare that has been going on for years, and not just because she lost her son under unclear circumstances.
"I had nine children, today there are eight. One of my sons is supposed to celebrate his 27th birthday, but instead we will mark his sixth year in prison," she says. "Another son of mine is also behind bars. And who am I? A single mother who tried to raise her children the best way she could."
"My youngest son is eight. He asks me almost every day: 'Mom, why do they call me "black" instead of using my name?' How can I explain to him that in the State of Israel, if an Ethiopian raises so much as a finger, he will be attacked and likely arrested or shot as well," she says.
"This country is not mine, I no longer believe in it. The truth is, I've already forgotten why we came here. An Ethiopian in Israel has no identity, and it pains me greatly. Our children go to the army, serve the country, pay taxes, but they are left behind because of their color."
How did you feel when you heard about Yehuda Biadga?
"I was furious. My body temperature went up, and I felt like I was becoming sick. His mother turned to an institution she believed would protect her, she turned to the Israel Police. She didn't imagine she would get back a body. What's left is only to feel bad for the mother, and cry over another victim," Ahuva says.
"Today I understand that the Ethiopian community is defenseless, and it is time we wake up. Meanwhile, many Ethiopian parents cry over the children they lost, or visit them in prison. It's time to change this reality."
The Israel Police offered the following response: "Contrary to what has been claimed, the Israel Police provides policing services, carries out enforcement and provides protection and security in a fair and equal manner, regardless of nationality, culture, religion or skin color. The cases mentioned in the article, of which we did not receive the full details, happened many years ago and do not represent the connection built in recent years between the police and the (Ethiopian) community.
"As part of an in-depth examination done in recent years, the police initiated a plan of action that is currently being implemented and is already bearing fruit. Among other things, a solution has been found to the issue of over-policing; dozens of criminal cases opened for Ethiopian youth were closed; there is regular dialogue with leaders of the community; all police officers have been trained on how to act facing the wide variety of communities and sectors that make up Israeli society; and there are dozens of community police officers, who were especially trained to operate inside communities and deal with the prevention and resolutions of problems.
"We regret the unjust feelings and generalizations expressed in the article. At the same time, alongside the continuation of determined enforcement of the law and the prevention of crime, we are committed to continue acting together with the representatives of the community to increase the trust among Ethiopians and to provide the best service and security to all citizens of the State of Israel."