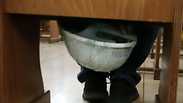 Helmets under the pew at Beth Israel Synagogue in Istanbul
As fears grow of terror attacks in Turkey, one synagogue in Istanbul has come up with an unorthodox solution. Worshipers at Beth Israel Synagogue are invited to take a pew, and help themselves to the helmet placed under each seat.

The Beth Israel Synagogue is the only shul in the world in which worshipers pray with helmets at hand for their protection. A member of the congregation said the helmets were introduced after the series of terror attack were carried out against the Jewish community in Istanbul in 2003. Two car bombs—one near the Neve Shalom Synagogue and another near the Beth Israel Synagogue — claimed the lives of 23 people in total. In addition, 303 people were wounded, 100 of whom were Jews.

A group of ultra-Orthodox worshipers from Israel were allowed to pray in the Beth Israel Synagogue only after undergoing a strict security inspection. When they entered the synagogue, they were amazed to see the helmets underneath every pew.

Beth Israel's worshipers say that Jews in Istanbul live in fear, refraining from walking around with skullcaps. "Synagogues in Istanbul look like fortified military bases," one worshiper said.

With relations between the once-friendly Ankara and Jerusalem in decline, anti-Semitism in Turkey is on the rise. A Jewish voter casting his ballot at an elementary school in Istanbul in July 2018 was shocked to see slogans on the bulletin board that read: "Jew equals liar", "A Jew stabs people in the back," and "A Jew is a coward who kills weak people."

Another poster at the school included a call to liberate Jerusalem from the Jewish state.