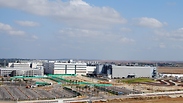 Intel plant in Kiryat Gat
The US technology company Intel Corporation has announced it is making a $10-billion investment in a new plant in Israel, that will create around 1,000 jobs over the next few years.
Intel Vice President Daniel Benatar and Intel Israel CEO Yaniv Garty informed Finance Minister Moshe Kahlon and Economic Minister Eli Cohen on Monday that the company's management decided to make the huge investment in Israel instead of in Ireland or Singapore, which competed against Israel for the establishment of the new plant.
Intel will invest a total of $ 9.7 billion in the plant, with the Israeli government contributing NIS 3 billion (approx. $815 million) - 9.1% of the investment - in a 15-year payback that will run until 2034.
As part of the new understandings with the chipmaker, Israel will reportedly extend the company's current tax benefits. With its status as a company of strategic value to Israel, Intel today pays a corporate tax rate of 5% on its southern operations, instead of 23%.
The new plant in Kiryat Gat, some 50km south of Israel's financial hub Tel Aviv, is expected to extend over 370 dunams (approx. 90 acres). Intel is already a major employer in the area, before the addition of the 1,000 new jobs, and has already invested $5 billion in Israel over the past two years.
"This is the largest investment ever made in the State of Israel," Finance Minister Moshe Kahlon said Monday night. "This huge investment... indicates the great trust that the company has in the Israeli economy."
The Silicon Valley-based company is the world's second largest maker of semiconductor chips and processors, supplying computer giants such as Apple, Dell, and Hewlett Packard. Its reported revenue for the fourth quarter of 2018 was $18.7 billion, up 9% on the year before.