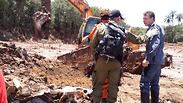 IDF troops assist rescue efforts in Brazil
Israeli rescue teams in Brazil say no chance of finding survivors
The only foreign search and rescue delegation to assist Brazilian military in the wake of the dam collapse that killed at least 84 people say they've recovered 20 bodies while operating in extreme conditions never before encountered by Israeli troops.
IDF soldiers sent to assist the search and rescue efforts in Brazil have recovered at least 20 bodies from the mud-filled neighborhoods of Brumadinho after a dam collapse killed at least 84 people, with over 270 still missing.

More than 100 Israeli soldiers from the Home Front Command and other personnel arrived in Brazil on Monday—some 60 hours after the collapse—to join local search and rescue teams hunting for hundreds of people still missing.

The Israeli delegation, which brought with it special equipment meant to help operate in muddy conditions, comprises some 130 soldiers and officers, includes engineers, doctors, and search and rescue personnel.

IDF troops assist Brazil dam rescue efforts

"Brazil's military and good rescue forces are not primitive, since this is the seventh largest economy in the world. We are learning from them and they are from us," said Lt. Col. Sagi Baruch, who also stressed that Israel is the only country to have sent a search and rescue team.

"We have never had to carry out a rescue mission in such muddy conditions … we knew beforehand that the chances of finding survivors, 24 hours after the event, are slim."

The Israeli rescue teams operate mainly in four critical locations, where many people are believed to have been when the disaster struck—a restaurant filled with at least 140 diners, a bus with at least 40 passengers, a minibus and a hostel—all of which were buried in a mudslide following the dam collapse.

The delegation is expected to leave Brazil within 48 hours. "We will stay as long as necessary, it's in Israel's interest (to stay and held), but our assessment is we'll be back home by the weekend," added Lt. Col. Baruch. "Our efforts have been greatly appreciated by the local population."

Israeli soldiers are also accompanied by an army psychologist who talks with the troops every evening to help with the trauma of encountering the horrifying sights of destruction and death.

"One of the bodies we recovered turned out to be a partner of the driver who drove us to the disaster area. We saw a picture of her in his car and realized who she was. He burst out crying, and said that he knew from the start she didn't survive," said Lt. Col. Baruch.