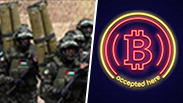 Hamas Bitcoin
Photo: Shutterstock
The security establishment is expressing concern after the military wing of Hamas made a decision to alter its financial strategy and use the virtual cryptocurrency Bitcoin.

Ever since its founding, Hamas has played a cat and mouse game with Israeli intelligence agencies in an effort to conceal the complex channels that fund its operations, using various banks and currency exchangers. Israel has often succeeded in uncovering and cutting off many of those channels, especially as the technology it uses has become more advanced.

But this week, Hamas released a statement saying: "Israel is fighting the resistance by trying to cut off its support, but supporters of the resistance all over the world are fighting the Zionist attempts and are working to find alternative methods to support it. We call upon all supporters of the resistance and of our just cause to support it through Bitcoin, through means that we will announce soon."

Hamas is essentially adopting a strategy long used by Hezbollah and ISIS to fund their terror activities through channels that are virtually untraceable. Iran also uses cryptocurrencies for projects it wishes to keep under the radar.

Bitcoin transactions have no identifying mark that can reveal who the money is coming from or going to. Each transaction creates a new address so that each user can potentially have thousands of addresses in their virtual wallet making Bitcoin attractive for terror organizations like Hamas, which has a military budget of about a quarter billion dollars annually.

Since releasing the statement, Hamas has engaged in a public information campaign to explain the benefits of virtual currency, primarily the anonymity factor.

Palestinian sources maintain that the campaign demonstrates the financial troubles of the terrorist organization's military wing but the main factor seems to be that Hamas has upped its game with regards to blurring the fingerprints of the financial channels that fund its military operations including weapons smuggling, rocket manufacturing, tunnel digging, training commando squads and improving its intelligence capabilities in Gaza.