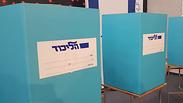 Likud primaries polling station
Photo: TPS
The ruling Likud Party is holding its primary elections Tuesday ahead of the general elections on April 9, with 142 candidates vying for realistic spots on the party's Knesset list.

The party's 120,000 registered voters will be able to cast their ballots starting 10am and until 10pm in 113 polling stations across the country, with each voter being able to choose 12 representatives for the Knesset list.

The Likud Party currently has 30 seats in the Knesset and it is expected to maintain this number and possibly increase it in the upcoming general elections. However, with the spots on the list reserved for Prime Minister Benjamin Netanyahuand several candidates of his choosing, district candidates (who will be elected by some 3,800 members of the Likud Central Committee), women, new immigrants and young candidates, as well as several prominent outside candidates joining the race—including former minister Gideon Sa'ar, Minister Yoav Galant and former Jerusalem Mayor Nir Barkat—8-10 of the incumbent MKs are expected to lose their seats.

"There's a real problem for volunteers in the field, when (voters) can only select 12 candidates," said Roi Sharabi, a prominent Likud activist. "The pressure is immense because the members of Knesset and the ministers do the simple math and realize some of them will definitely be out of the list."



After the polls close at 10pm, votes will first be counted at the polling stations and later sent to Kfar Maccabiah, where the votes will be counted again to confirm the results. The counting, which is done manually, could last a few hours, with official results expected on Wednesday morning.

With the tough battle ahead, candidates have spent the past 24 hours in an effort to improve their position, reach political deals and thwart any attempts to undermine them.

The Likud primaries will also bring to a boil the feud between party leader Netanyahu and former Likud minister Sa'ar. Netanyahu claims Sa'ar—alongside President Reuven Rivlin—is behind a plot to ensure he, Sa'ar, and not Netanyahu, is tasked by the president to form the next government after the elections. Sa'ar has vehemently denied the accusation, saying Netanyahu provided no proof to his claims and insisted it would be Netanyahu who will form the next government.

This week, the prime minister launched a direct campaign against Sa'ar in an effort to stop the former minister from receiving a high spot on the Likud Knesset list. Netanyahu has reportedly asked mayors he has good ties with to rescind their support of Sa'ar. The prime minister is also apparently helping Minister Yariv Levin get a high spot on the list to deny Sa'ar a spot in the top five.

Eitan Glickman contributed to this story.