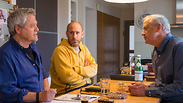 Benny Gantz
Photo: Tomeriko
IDF chief turned politician Benny Gantz believes Israel should not be ruling over another people, thinks it is time for Benjamin Netanyahu to step down and maintains he will not join Netanyahu government if the prime minister is under indictment.

In a far-ranging interview, Gantz speaks openly and candidly to Shlomo Artzi and Hanoch Daum about his politics, choices in the IDF and what he envisions for the future of the country.

Shlomo Artzi: Operation Protective Edge is over, but we're still under fire from Gaza. Do you still think the operation was a success?

Benny Gantz: Hamas took control of the Gaza Strip. They feel our wrath every now and again. We'll do this in accordance with our interests.

Hanoch Daum: The state comptroller determined you weren't ready for war.

Gantz: It's not like we said, 'okay, there are 30 tunnels there, we don't care about them, we're not gathering intelligence, we're not preparing defensive plans, we're not preparing offensive capabilities, we're not looking for technological solutions.'

Artzi: Since then, more tunnels have been found.

Gantz: We used our discretion on when to use offensive force. Now I propose that you and Hanoch and your readers remember this: when you go in with ground forces, there is a price to pay. Therefore, you choose to go in like this only when you think you have to.

Daum: You were criticized for saying you endangered soldiers to avoid hurting innocents.

Gantz: Were you willing for me to flatten a hospital with everyone inside? Answer me as a Jew, as an Israeli, as a fighter in the IDF.

Daum: No.

Gantz: Very well then. And if I do want to flatten it (the hospital), I need to make sure there is no one in it. Seemingly that poses a risk. So I tell the Golani soldiers to make sure it's empty, because we're about to destroy the hospital. This process takes a while, and then after we've made very sure there was no one there, and six minutes later, the hospital was in ruins. I have the duty to protect my people, hurt my enemy, do the best I can with as few uninvolved casualties as possible—I can't have zero innocent casualties—and at minimum risk to the lives of our soldiers. So anyone who is getting into this story, I'm telling you, is playing a political game.




Daum: Moshe Ya'alon, your partner, thinks the Oslo Accords were a terrible disaster. He opposed the Gaza disengagement and he thinks there is no Palestinian partner to talk to. Where do you stand on these issues?

Gantz: The main question is that of security. It needs to ensure the State of Israel's security. Now, there's a question of interest here. We—and Netanyahu said this in his Bar-Ilan speech (a 2009 address in which the prime minister backed Palestinian statehood) —are not looking to control anyone else. We need to find a way in which we're not controlling other people.

Daum: So you're actually in favor of a similar move to the Gaza disengagement?

Gantz: The disengagement was a diplomatic move done by the State of Israel. All involved sides scored high in their ability not to tear the people apart when it was carried out.

Daum: So you're not sorry for the fact we uprooted communities from there?

Gantz: It was a legal move, a decision made by the Israeli government and carried out by the IDF and the settlers in a painful, but good manner. We need to take the lessons learned and implement them elsewhere.

Daum: After you retired from the IDF you served as the chairman of a high-tech company, the Fifth Dimension. You performed a magic trick and made about $40 million disappear. The question is, are the citizens of Israel not entitled to say, okay, he was the IDF chief, but he can't be a prime minister when the only thing he has done since is managed a failed company?

Gantz: Listen, I can't consider the Fifth Dimension to be a success story. It was only one of eight or nine business activities I had. I'm not some tycoon and I don't consider myself a businessman. I propose we remember that this happens to nine out of 10 high-tech companies. So let's look at this with the proper perspective.

Daum: But it was a massive failure.

Gantz: It was an unsuccessful venture that really came from...

Daum: But you were the chairman.

Gantz: I was the chairman of the company, but it also had a CEO and investors. It's a slightly more complex story.




Artzi: Do you consider the culture loyalty bill reasonable?

Gantz: It's unreasonable to me that there's a government in which the culture minister attacks the institutions she's responsible for. The justice minister attacks the institutions she's responsible for. The internal security minister attacks the institutions he's responsible for. The Cabinet attacks the IDF, and the prime minister attacks everyone.

Artzi: Talk to us about Netanyahu.

Gantz: Netanyahu has taken on the toughest job in the State of Israel, and as someone who truly gives of himself, I consider him a patriot. Let it be clear: I don't hate Bibi... The man is the prime minister of the State of Israel, I don't hate him. But I think it's his time to step down in a dignified manner.

Daum: There's a gap between those who say: We won't sit in his government if there's a hearing before indictment, and there are those who say: We won't sit in his government if he's indicted. Where do you stand?

Gantz: I plan to win and resolve this matter through that. It'll end there.

Daum: Everyone believes they are going to win.

Gantz: No, no. But for the first time in a decade there is a chance. Let's talk honestly.

Daum: I'm sure if anyone defeats him, it'll be someone with your military background. But what about the indictment? Are you not going to take a position on this?

Gantz: I plan to win. I respect the public's decision and I respect the law. It doesn't seem reasonable to me that there's a possibility the prime minister will continue to serve with an indictment.




Daum: There are a few months until the hearing.

Gantz: So I said that with an indictment, I won't sit in his government.

Daum: After the hearing or before it?

Gantz: I won't sit in his government if there is an indictment.

Daum: What I'm going to write in the paper is that: "He avoided giving a specific answer," okay?

Gantz: But I told you...

Daum: I got it. Everything is clear. Ten months after the hearing, you'll sit in his government—until an indictment is filed.

The Israel Resilience Party said in response to the article that: "The disengagement was led and executed by a legitimate government headed by the Likud Party and was supported by Netanyahu and other Likud leaders, with Miri Regev acting as its spokesperson.

"Under Gantz, no unilateral decisions will be made on settlement evacuation, and the issue of the conclusions drawn from the disengagement, which were discussed in the article, relates to the importance of preventing a division between Israelis and maintaining non-negotiable security protections in any future initiatives."