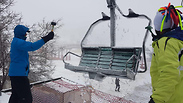 Snow on Mt. Hermon
Photo: Mt. Hermon management
Snowfalls slowly resumed over the weekend in the Golan Heights as another storm system hit Israel on Sunday, which is expected to last for several days. Rainfall accompanied by thunderstorms will spread throughout the day Sunday from northern parts of the country to southern parts of the Negev Desert. According to Meteo-Tech meteorological company, there is fear of flooding in the Judean Desert, the Dead Sea and the Jordan Valley.

Over the past two days, the continued snowfall on Mount Hermon added another 20 cm to the upper level of Israel's only ski resort, which now boasts some 80 cm of snow. Although snow is expected to continue in the coming days, the site remains open for visitors, with the temperatures at the lower levels of the mountain dropping to 0 degrees celsius. The site's management says the facilities at Mount Hermon will remain open as long as the weather conditions allow it.

Snow accumulates on Mount Hermon (צילום: אתר החרמון)

The water level in the Sea of Galilee has risen by at least 4 cm since Friday and now stands at -213.43 cm below the sea level, according to the Water Authority. Since the start of the Israeli winter, the water level has risen by 1.2 meters and is now just some 4.655 meters away from the line marking full capacity.

On Monday, intermittent rain is expected to once again spread from northern Israel to northern parts of the Negev Desert. By the afternoon the rain will weaken and gradually cease. Temperatures will remain unchanged.

Tuesday will see a mix of sun and clouds. The temperatures will slightly increase and will reach the seasonal average.

On Wednesday, the weather will be much warmer with some intermittent rain in northern parts of the country. Over the weekend, however, the temperatures will once again cool off, with another storm system hitting the country.