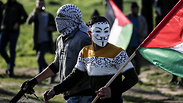 Gazans protest along the border with Israel
Photo: AFP
The Netherlands will allow Palestinians born after the establishment of the State of Israel to list their official birthplace as the West Bank, Gaza Strip or East Jerusalem, Dutch State Secretary Raymond Knops said Saturday.

While the Netherlands doesn't recognize Palestine as a state, the Dutch civil registry will now recognize the West Bank and Gaza as the birthplace for those born there after May 15, 1948—the day the British Mandate officially ended and the State of Israel was established.

So far, Palestinians living in the Netherlands were only able to list "Israel" or "unknown" as their their official birthplace, with the latter option only added in 2014 following protests from the Palestinians.

According to a statement by the Dutch Interior Ministry, the move was in line with "the Dutch viewpoint that Israel has no sovereignty over these areas," as well as the Netherlands' commitment not to recognize Palestine as a sovereign state.

The statement notes that the move reflects the terms agreed upon in the Oslo Accords between Israel and the Palestine Liberation Organization (PLO) in the 1990s, as well as in several UN Security Council resolutions that followed.

According to Dutch media, the decision comes after a Dutch national of Palestinian descent sued the state in the European Court of Human Rights and demanded to be recognized as a Palestinian and not as an Israeli.