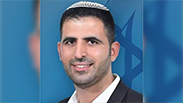 New Likud candidate calls LGBT community 'unnatural,' slams Gay Pride
Shlomo Karhi, who won 27th spot on the party's Knesset list, says annual festivities 'are inappropriate and against nature'; his aunt, who has two gay sons, says she will continue fighting to eradicate bullying against the LGBT community.
A Likud member who secured a realistic spot on the party's Knesset list this week condemned the gay pride parades held every year in Israel, saying such events promote an unnatural lifestyle.

Shlomo Karhi, who secured the 27th spot reserved for the Negev region, called the pride parades "inappropriate," and said they serve to "legitimize something that is contrary to the natural family unit."

Karhi, who is a married father of five, lives on the religious moshav of Zimrat, close to the Gaza Strip border. He has 17 siblings, who are all Likud members, and is a lecturer at Bar Ilan University, which "fuse(s) a reverence for Jewish legacy and heritage with the rigors of academic study."

"In my opinion holding Gay Pride parades is completely wrong," Karhi told the radio. "Everyone has the freedom to choose (how to live their life). But I don't think it's appropriate to publicly display this behavior."

Chen Arieli, chair of the Association for LGBTQ Equality in Israel, said that Karhi had already shamed his party and made a fool of himself before even entering the Knesset.

"It is a disgrace for the Likud Party that Shlomo Karhi, a candidate who has yet to be elected to the Knesset, has become the sad joke of the next parliamentary session. It is interesting that the new advisor to Knesset Member Yoav Kish (who proposed legislation against LGBT discrimination) failed to express his stance about the LGBT community when Kish joined the Knesset LGBT Lobby," she said.

"It is also interesting whether Karhi shares his primitive and benighted opinions with MK Amir Ohana, who secured the 26th spot on the Likud's Knesset list," she said, referring to the fact Ohana is openly gay.

"The members of the LGBT community who vote for Likud should know this is the man they will help get elected to the Knesset," Arieli said.

Shosh Tuchfeld, Karhi's aunt and the mother of two gay men, said she "is not surprised by her nephew's remarks. But I view these remarks as a challenge, and I'll continue fighting against people who speak and think like in this way."

Tuchfeld, 59, lives on Moshav Maor in the center of the country, and volunteers at the Nir Katz Center, part of Israel's LGBT Task Force. She fights homophobia on social media and regularly takes part in Israel's Gay Pride Parades.

"My answer to Shlomo is that the Pride Parades are a way of protest. It is a struggle for equal LGBT rights, for eradicating bullying, humiliations and shaming of the LGBT community," she said.

"There are members of the LGBT community who are religious, and their situation is far worse because of this sort of reaction."