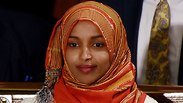 US congresswoman Ilhan Omar tweeted out an apology on Monday, after posts she had written a day earlier were condemned as anti-Semitic.

The tweets implied that members of Congress are being paid by a powerful interest group to support Israel.

"Listening and learning, but standing strong," Omar wrote on a post. "Anti-Semitism is real and I am grateful to Jewish allies and colleagues who are educating me on the powerful history of anti-Semitic tropes. My intention is never to offend my constituents or Jewish Americans as a whole," Omar wrote.

"We have to always be willing to step back and think through criticism, just as I expected people to hear me when others attack me for my identity. This is why I unequivocally apologize."

However, Omar added that she remains critical about the American Israel Public Affairs Committee, and believes it unduly influences US politics.

"I reaffirm the problematic role of lobbyists in our politics, whether it be AIPAC, the NRA or the fossil fuel industry. It's gone on too long and we must be willing to address it," Omar said.

Omar's mea culpa followed House Speaker Nancy Pelosi's call that the freshman Democrat immediately apologize for the tweets.

"Congresswoman Omar's use of anti-Semitic tropes and prejudicial accusations about Israel's supporters is deeply offensive," Pelosi said in a statement issued by her office and signed by other Democratic leaders after a bipartisan backlash against the Minnesota Democrat. "We condemn these remarks and we call upon Congresswoman Omar to immediately apologize for these hurtful comments."