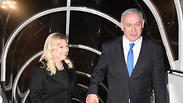 Prime Minister Netanyahu and his wife Sara board flight to Warsaw
Photo: Amos Ben Gershom/GPO
Israel, Arab states come together at conference against Iran
Prime Minister Netanyahu travels to Warsaw to attend summit on peace and security in the Middle East, which will focus on the Iranian threat; for the first time since the 1991 Madrid Conference, an Israeli PM will sit in the same room as representatives from many Arab nations.
Prime Minister Benjamin Netanyahu arrived in Poland early Wednesday to join senior officials from 60 nations at the Warsaw summit on peace and security in the Middle East, which is organized by the United States and Poland in an effort to ratchet up pressure against Iran.
"I think that holding this conference, in which Israel, the US, various countries around the world and from the region sit down in one place ... and discuss one topic—which, in my opinion, is the most important for our national security—is a very important achievement. I very much appreciate the American initiative, which I have been associated with and party to for many months," he said before boarding his flight to the Polish capital.
While in Warsaw, Netanyahu is expected to meet with US Vice President Mike Pence and Secretary of State Mike Pompeo, as well as Polish Prime Minister Mateusz Morawiecki.
The Israeli premier is expected to give a scathing speech against Iran on the conference's first day Thursday. US Vice President Pence and Polish Foreign Minister Jacek Czaputowicz are also scheduled to speak.
Iran has denounced the conference, which begins Wednesday, as an American anti-Iran "circus" and Russia has said it will not attend.
The absence of foreign ministers from major European powers, Germany and France, highlights festering tensions with the European Union over US President Donald Trump's decision last year to withdraw from a 2015 nuclear deal with Iran and reimpose sanctions.
EU policy chief, Federica Mogherini, who was a key player in the Iran nuclear deal, will also not attend the two-day conference due to scheduling issues, an EU official said, although US Secretary of State Mike Pompeo will travel to Brussels on Friday to meet with her.
Pompeo, who will be joined by US Vice President Mike Pence in Warsaw, played down the absence of leading European ministers at the event during a brief stop in the Slovak capital Bratislava on Tuesday, before he headed to Warsaw.
"Some countries are having their foreign ministers come. Other countries are not. That's their choice," he told a news conference.
"We think we will make real progress. We think there'll be dozens of nations there seriously working towards a better, more stable Middle East, and I'm hoping by the time we leave on Thursday we'll have achieved that," he added.
While countries such as France, Germany and Britain have opened a new channel for non-dollar trade with Iran to avert US sanctions and keep the nuclear deal afloat, they have criticized Tehran's ballistic missile program.
"There will be discussions about Iran's influence in the Middle East, what we can do to help get Iran on a more helpful footing that it has been, to collectively push back on some of its malign behavior in the region," a senior US official said of the Warsaw agenda.
New US sanctions, mainly targeted at cutting off revenue from Iran's oil sector, have largely succeeded in persuading European companies to abandon business with Iran.
Iran has threatened to pull out of the deal unless the European powers enable it to receive economic benefits. The Europeans have promised to help companies do business with Iran as long as it abides by the deal.
In other policy differences, Washington's European allies have also voiced concern over Trump's decision to withdraw US troops from Syria.
The Americans and the Poles invited senior officials from almost all Muslim and Arab nations, but were unable to bring many leaders to the conference. Instead, Arab countries will send foreign ministers, deputy ministers or ambassadors to Poland.
Among the Muslim countries expected to send ministers are Saudi Arabia, the United Arab Emirates, Oman, Jordan, Yemen, Bahrain, Morocco and Kuwait. Egypt and Tunisia will be sending deputy ministers.In addition, foreign ministers from Balkan and Visegrád Group (Hungary, Slovakia, the Czech Republic and Poland) nations will also attend.
This would be the first regional conference since the 1991 Madrid Conference in which the prime minister of Israel will be present alongside representatives of almost all Arab nations. It remains to be seen, however, whether Arab officials will make any public overtures to Netanyahu without a major concession to the Palestinian cause, which still animates the Arab public.
With Arab public opinion still strongly against normalization with Israel, this week's conference is unlikely to produce warm engagement right away, said Yoel Guzansky, a senior researcher at Israel's Institute for National Security Studies.
"Covert meetings already exist, and the 'under-the-table' relations are the world's worst kept secret, so I don't see what the Arabs would gain from shaking hands," he said. "The point is to see everyone in the same room as a united front against Iran. But the Arab street is still nowhere near where the elites are regarding Israel, and too strong an embrace could draw fire."
The conference, which was originally meant to focus on Iran, will also deal with promoting peace in the Middle East, after the Iranians put immense pressure on the Poles, who wish to maintain their good relations with Tehran and the Muslim world, and they changed the agenda.
Moreover, European countries warned Washington that it was ill-advised to hold a conference that highlights the differences of opinions between Europe and the United States on Iran, and suggested to hold a closed forum discussion on the Iranian ballistic missiles threat instead.
The conference will hear from White House adviser Jared Kushner, who is Trump's son in law, over plans by the United States for peace between Palestinians and Israelis.
While Kushner is not likely to divulge too many details of the plan, it will be one of the first occasions in the two years he has been working on the plan that he will publicly discuss the US efforts.
Palestinian officials have said they will not attend the Warsaw conference because of Washington's decision to move the US embassy to Jerusalem. They've also asked Arab countries to boycott or downgrade their representation at the conference in Poland.
"We view the Warsaw conference as a plot against the Palestinian cause," Palestinian Foreign Minister Riad Malki said this week.
President Mahmoud Abbas met with Saudi Arabia's King Salman on Tuesday, who expressed his "permanent stand" in favor of a Palestinian state with east Jerusalem as its capital, according to the official Saudi news agency.
Alongside Iran and the Palestinians, Qatar and Turkey are also boycotting the conference.
The Associated Press contributed to this story.