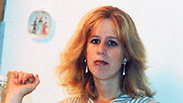 Vardit Bakraknot, the murder victim
Israel Police on Wednesday said they have arrested the man they believe was behind the brutal attack on 27-year-old Vardit Bakraknot, whose body was found names in the woods near the city of Beit Shemesh in 1993.

Police last week arrested 64-year-old Valeri Sakowitz for the rape and murder of the young woman after DNA from the suspect matched biological evidence found at the scene 25 years ago.

Sakowitz was arrested a week and a half ago. The Jerusalem District Court extended his remand for ten more days, after he placed himself at the murder scene.

A combination of police findings and technological developments have faciliated a breakthrough in this case," said Judge David Gabbay Richter. "As a such, it can be said that there is a high level of reasonable suspicion" against Sakowitz.

Sakowitz was born in Belarus when it was still part of the Soviet Union and arrived in Israel in 1990. He lived in Israel until 1994, when he returned to his native country. He went back to Israel a year later, but departed once again, to finally return in 2018.

The suspect, a divorced father of two, initially said he was alone in Israel but later changed his story. He was then arrested and placed in solitary confinement. He testified to being at the murder scene while he was on his way to visit his girlfriend, but denied all other allegations.

Bakraknot, a resident of Kibbutz Kiryat Anavim, located a few kilometers west of Jerusalem, was a photography student. She went missing in November 1993 and her body was found two days later in the Eshtaol Forest bearing signs of violence and rape. She was last seen getting into a Subaru Legacy sedan as she hitchhiked in Tel Aviv, and it is believed the man who drove the car is the one who killed her.

Two men were arrested and released after the murder, including an IAF reservist pilot who was cleared by a polygraph test. The other suspect was a salesman who served in the IDF with Bakraknot.

A third man, a serial sex offender, was also arrested and released three months after the event. Two years later, the victim's parents claimed two men were behind the murder and not one, but the mystery remained unsolved.

Other kibbutz members said the victim's father continued to search for the man who killed his daughter until the day he died in 2010.

"I don't know if I should be happy," Vardit's mother Ra'aya Bakraknot told Ynet last week. "Many theories ended up in nothing over the years and I've often been disappointed. I can't be happy. I hope this time it's him."

This new development comes less than a week after another young woman, Ori Ansbacher, was raped and murdered in the Jerusalem area. The suspect Arafat Irfayia, a 29-year-old resident of Hebron in the West Bank was arrested by the IDF on Saturday and is believed to be affiliated with the Hamas terror group.